Tumi has one of the most loyal brand following in the industry, and for good reason, they make exceptional luggage. Tumi is widely considered to be one of the best luxury luggage manufacturers in the world. We have said before on this site that if you can afford it, we consider Tumi to be the best luggage brands available for consumers. You're going to spend more money than you would if you settled for a typical household brand, but you really do get what you pay for when it comes to luggage.
We've found that Tumi bag owners are extremely brand loyal and leave very favorable reviews for the bags they buy. If a good carry on suitcase is what you're looking for, we cannot recommend Tumi enough. Be ready to spend $300+, however it will absolutely be money well spent. Here is a list of the best Tumi Carry Ons:
The 6 Best Tumi Carry on Suitcases
TSA Integrated Locks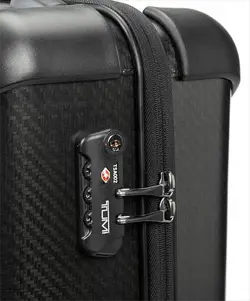 Tumi comes very highly reviewed by users because of the craftsmanship, but also because of some features that you won't find on other suitcases or brands. Many hard case Tumi pieces come with a built-in TSA lock. This is a combination lock that you can set your own combination for. It is called a TSA lock because TSA agents have master keys that will open the lock without needing to input the combination.
There are also separate locks for soft shell luggage that will secure two zippers together. Luggage reviewers have said that the TSA lock is very easy to set up. If your luggage does not come with an integrated lock, you can purchase a lock separately. To avoid problems at the airport, make sure you buy a lock that is TSA approved. Here is a large selection of TSA approved luggage locks.
What is Tumi Tracer?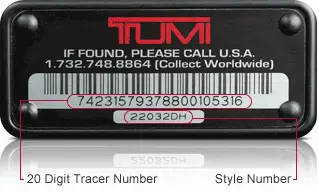 Ever had the awful experience of having your luggage lost? Tumi decided to create a luggage recovery plan of attack by putting a special metal plate inside every piece that they sell. This plate contains a 20-digit ID number that can be registered on the Tumi website. When you register you will enter your contact information, and in the unfortunate event that your luggage is lost, Tumi will help you get it back.
You may be thinking that that's what a luggage tag is for – luggage identification. Thieves can remove luggage tags, but it is a little tougher to remove the Tumi Tracer plate that is permanently affixed to each piece. On the tracer plate are clear instructions on what to do if the luggage is found, including a special hotline to call. By making sure your information is up to date, you can increase your chances of being reunited with your luggage in the event that it goes missing.
Tegra-Lite International Carry On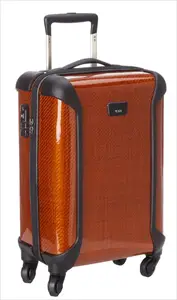 Arguably the most popular Tumi Carry On luggage piece is the Tegra-Lite because it is durable, light weight and stylish. This piece stands 21.5" tall and is made of 100% Polypropylene Thermoplastic Composite Material. This bag will fit on almost every domestic US airline's overhead compartment, however we still suggest that you review our carry on luggage size chart to be sure. Put simply, this piece is made up of the same material as certain types of body armor, NASCAR race cars, and NFL protective gear. The interwoven look of the material is also very appealing visually and comes in an array of colors. This is a four wheel spinner piece that comes standard with TSA integrated locks.
This bag is incredible durable, some say more so than the Vapor series, which can be slightly more prone to scuffing. The intercontinental size is slightly smaller than its continental counterpart, and that does mean it is a little smaller, but is more likely to fit in every overhead compartment of any plane. Users have reported space inside for about 2-4 days of travel.
Most who use this bag say to go with the intercontinental to be safe, but you may also have luck with the continental and get a little more usable space on the inside. Like all of the carry on bags mentioned in our list, this is not a big bag at all, so don't expect a ton of room. The material does make it exceptionally light while still being incredibly durable.
Tumi Voyageur Super Leger
Made from 100% Nylon material, this is another great choice if you're looking for a new carry on bag. The new Voyageur Super Leger series is maybe the most highly-rated Tumi carry on bag on our list, depending where you look. We love the leather accents in conjunction with the lightweight nylon material only found on the Voyageur Super Leger. This bag is super easy to pack thanks to the 2 outside compartments and 3 inside compartments.
The soft material expands a little bit if you are filling it to capacity. A fair warning though, if the suitcase is packed too full, it may become slightly larger and have a difficult time fitting into some overhead compartments. Your items are very secure though, with some help from 2 inner straps that make sort of an X shape.
Owners of the Voyageur Super Leger Tumi bag can't say enough good things about it. Owners love how light-weight the bag is compared to some of the other Tumi models, and how it still is very durable despite its lightweight nature. The famous Tumi luggage tag is a nice added touch, as well as the various bold color choices available. We highly recommend the Voyageur Super Leger carry on suitcase.
Tumi Luggage T-Tech Cargo Continental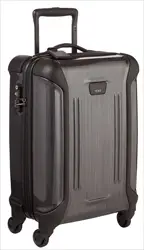 This is another hard shell carry on, however it costs almost half as much as the Tegra. Still made from the same durable, high-quality Polycarbonate material. If you plan on only traveling within the United States, you should be fine with a continental size as opposed to the slightly smaller intercontinental size.
International flights can be slightly stricter on their carry on rules, but this bag is perfect for fitting on US plane trips and allowing just a little more room for your belongings. Users of the T-Tech Cargo Continental have had success getting this bag to fit in the overhead compartments on Delta, Frontier, United, Southwest, and US Airways.
One user who was 6' 3" was able to fit all of the following in his T-Tech Cargo Continental: a suit, five shirts, one pair of dress shoes, a belt and undershirt, plus a few casual evening clothes and work out attire.
Alpha 2 International
This is the first soft shelled carry on that made our list (100% Ballistic nylon). This is a little more expensive than what was previously on our list, but truly is an exceptional piece of luggage. This carry on comes with Tumi's "Add a Bag" capability, which is a patented system allowing for another bag to be easily secured to this bag (up to 200lbs). This allows for a much easier time carrying multiple bags. The inside of the bag is equipped with:
A removable garment sleeve in lid compartment
Hanger bracket
Zip pockets
Mesh zip pocket
Passport pocket
Ticket pocket
Tie-down straps
For a quality soft-shell carry on, the Alpha 2 is a solid choice.
---
If you can't tell – we are huge Tumi fans and think everyone who can afford it, should treat themselves and experience what other Tumi owners have for themselves. Tumi is one of the most recognizable suitcases you'll find at the airport. Frequent travelers will love the quality and good looks any of the Tumi lines.
Tumi is an evolving brand, and every other year or so they make tweaks and improvements to their bags which is great for newer buyers. We hope that you enjoyed our Tumi luggage reviews and seriously consider going with a Tumi – one of the highest rated luggage companies out there. Do you own a Tumi already? Let us know how you like it in the comment section below.
To add to the excellent carry ons listed above, there's even more Tumi to love. We are huge fans of the Voyageur collection as well as the V3 collection.
Update: Tumi has been acquired by cheaper rival, Samsonite for $1.8 billion USD. What does this mean for Tumi lovers? Nothing. Tumi will still carry on business as usual, as will Samsonite. This was a strategic acquisition by Samsonite to buy out the competition and make them their own. They have made it clear that the quality of Tumi will not change – which is great news for everyone. Will Samsonite keep buying up the competition? We'll just have to wait and see.