When it comes to affordability and customer-friendly policies, Southwest Airlines reins. With a generous change and baggage policy, it is hard to find another airline that comes close.
Passengers love Southwest's flexibility and generous airline carry-on allowance that comes standard with even the lowest priced fares. There will be no nickel and diming when you fly Southwest, although they are known for the cheapest fares around. 
As part of every fare, all passengers are allowed to bring one bag and one personal item. If you are traveling with a pet, that will count as either your carry-on or personal item.
Examples of personal items include a purse, jacket, small backpack, briefcase, laptop, etc. All personal items must be small enough to fit beneath the seat in front of you (16.25" (L) + 13.5" (W) + 8" (H) ). 
Refer to the following chart for all carry-on baggage size requirements
Southwest Carry-On Luggage Size Limits
| | | | | |
| --- | --- | --- | --- | --- |
| | Length | Width | Height | Weight |
| Inches | 24 | 16 | 10 | N/A |
To ensure your baggage will fit in the overhead storage bin, please ensure that your baggage does not exceed these measurements (including handles and wheels). Also note that although there is no weight requirement, you should be able to safely lift the baggage above your head and into the overhead storage in case there is no one to assist you. 
In addition to the permitted personal and carry-on items, the following will not count against the limit: 
A child restraint system
Assistive/mobility devices for individuals with a disability. There is no limit to the number of assistive/mobility devices you can bring onboard
Outer garments or other wearable articles of clothing
Food in disposable packaging
Walking canes or umbrellas
FAQ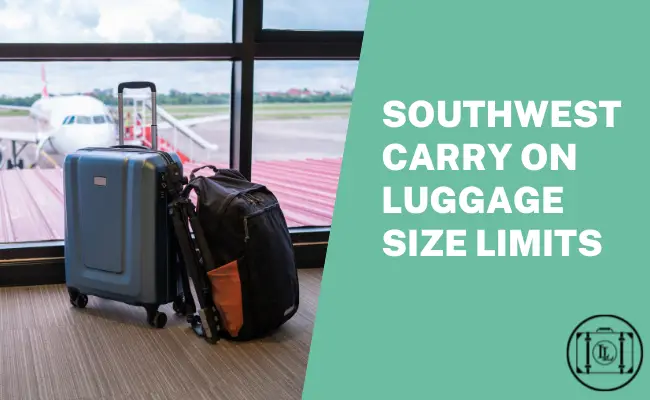 What if my Carry-On Needs to be Checked at the Gate?
In the event you are unable to bring your baggage on board, it will be safely stowed below the plane. Once you arrive at your destination, you may pick your items up at baggage claim.
If you are bringing a stroller or other assistive device, the airline staff will properly store it and have it available for you at the gate or jet bridge upon landing.  If your bag needs to be checked, you must remove the following:
Medication
E-cigarettes
Spare batteries
Assistive devices (i.e., canes, etc.)
Keys
How Much Liquid Can I Carry on Board? 
According to the Southwest Airline website, each passenger is allowed to pack one quart-sized bag of liquids, aerosol, gels, creams, and pastes in their carryon bag. These are limited to 3.4 oz (100 mL) or less per item.
During TSA security screening, these items must be removed from your carryon for inspection (unless you have been selected for TSA PreCheck expedited screening, in which case you may be exempt from the screening process).
Any liquid, aerosol, gel, cream, or paste that triggers an alarm during screening will require additional screening. Medications and infant and child nourishments are exempt from the 3.4 oz limit.
Are Batteries, e-cigarettes, or Lighters Allowed on the Plane? 
Passengers are allowed to carry up to 20 spare batteries at a time. This includes all chargers for mobile phones, tablets, and laptops. These items may not be checked in. E-Cigarettes are also allowed only for carry-on but may not be used on board. Passengers may carry one lighter. 
As a leading choice for travelers, Southwest Airlines has established itself as one of the top airlines in the industry. Whether you are heading across the country or just taking a quick weekend getaway, Southwest is sure to provide you with an experience that is both comfortable and enjoyable.
When you fly Southwest, you can look forward to friendly and attentive service as well as enjoy convenient flight schedules that will get you to your destination quickly and easily. If you want to travel with an airline that puts your needs first, look no further than Southwest Airlines.