Virgin Atlantic is one of the best airlines in the world. With its high quality service, comfortable seating, and convenient amenities, it sets the standard for air travel. Whether you are traveling for business or pleasure, Virgin Atlantic is sure to meet all of your needs.
From check-in to touchdown, this airline works hard to make each journey as smooth and enjoyable as possible. If you're looking for an airline that truly delivers on its promise of excellence, look no further than this bright red powerhouse that is Virgin Atlantic!
You will find their website to be one of the most well designed and user friendly sites out there, however, to further assist you in preparing for your next trip, we have gathered important details about their carry-on baggage size limitation policies and are including them here for your convenience,
Virgin Atlantic Carry-On Baggage Size Restrictions
With the exception of Economy Light, all passengers are allowed one free checked baggage included with their ticket. Please refer to the following size limits:
| | | | | |
| --- | --- | --- | --- | --- |
| | Height | Length | Width  | Weight |
| Economy* | 90 cm (35.5 in) | 75 cm (29.5 in) | 43 cm (16 in.)  | 23 kg |
| Premium* | 90 cm (35.5 in) | 75 cm (29.5 in) | 43 cm (16 in.) | 23 kg |
| Upper Class* | 90 cm (35.5 in) | 75 cm (29.5 in) | 43 cm (16 in.) | 32 kg |
*Please note that Economy airfare includes one checked bag, while Premium and Upper Class include two checked bags. 
There are several baggage allowance exceptions according to your destination, so you may wish to refer to their official website for details. 
Virgin Atlantic Economy Baggage vs Premium Baggage Limits
All tickets allow for one hand baggage and must measure 9 x 14 x 22 inches (23 x 36 x 56 cm.) and not exceed 22 lb or 10kg if you are flying Economy or Premium. For those traveling Upper Class, you are permitted up to two pieces of hand baggage per person, weighing up to 12kg (26lb) for one bag, or up to 16kg (35lb) combined weight. So for example, you could take a 12kg bag and another little bag of 4kg.
Children under two may carry baggage weighing 6kg (or 13lb). Children age two and up are permitted the same allowances as standard adult tickets.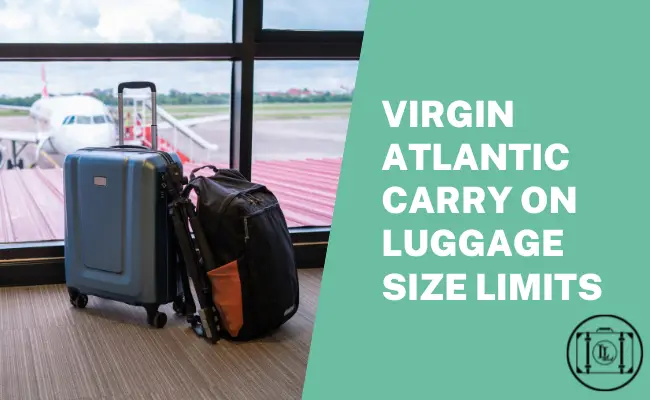 FAQ
Can I Carry Musical Instruments or Sporting Equipment On Board?
Some instruments or equipment may be small enough to fit in your baggage (refer to size limits), however if it is too large, you may include it as part of your checked bag allowance or pay an additional baggage fee. 
If you are traveling with sporting equipment, you may include it as part of your checked baggage allowance as long as it weighs 50 lb. (23 kg) or less. 
For additional information on either of these items, please refer to Virgin Atlantic's website and view their baggage policy page. 
What if My Baggage is Overweight? 
If your baggage weighs more than 23 kg. (or 32 kg. For Upper Class), you will need to pay an overweight baggage fee at the airport. 
What Do I Need to Know About Traveling with an Infant? 
If you are traveling with an infant (under two years old) and carrying them on your lap, you may bring 1 checked baggage. If you are flying Economy Light, where no baggage is included, you may purchase 1 bag per infant. You are also allowed to bring a cars eat in addition to your free bag allowance. 
If you've never flown Virgin Atlantic, you will love it! From comfort to excellent customer service, they have you covered. If you want to enjoy a smooth and enjoyable travel journey, plan ahead by making sure you meet all the baggage requirements and you are prepared for any exceptions. Before you know it, you will be in the sky and on your way to your destination.