If you plan to travel on United Airlines, you will be flying on a modern, well-maintained aircraft that is equipped with all the latest amenities to make your flight as enjoyable as possible. Whether you're a standard economy passenger or a first class customer, you can be sure that you'll enjoy a safe and efficient journey courtesy of United.
In order to prepare for a smooth travel experience, it is a good idea to review their carry on policies so there are no surprises or delays when the time comes. 
United Carry-On Suitcase Limits
Please refer to the following table for carrry-on baggage size requirements.
| | | | | |
| --- | --- | --- | --- | --- |
| | Height | Length | Width | Weight |
| Inches | 22 | 14 | 9 | N/A |
| Centimeters | 56 | 35 | 22 | N/A |
Unless you are traveling on Basic Economy or United Express flights, you may bring one personal item and one carry-on baggage.
United Personal Item Size Restrictions
Personal items must fit beneath the seat in front of you and must be of the following dimensions:
9 inches x 10 inches x 17 inches (22 centimeters x 25 centimeters x 43 centimeters).
Can You Bring a 3rd Item on a United Flight?
In addition to your carry-on and personal item, you may also bring the following at no extra charge:
A jacket
An umbrella
Reading material
Food or merchandise that you buy in the airport
Assistive devices (such as a collapsible wheelchair, cane, crutches, medical device for prescription medications, or portable oxygen concentrator)
FAA-approved child restraint system or safety seat
A diaper bag
A breast pump
A camera
A pet carrier (service charges apply for in-cabin pets)
Should any of your carry-on items be too large, you will be required to check them in for a fee. If you are wondering how much you will be charged for certain items, United offers a baggage fee calculator that will help you plan. 
When measuring your baggage, be sure to include the handles and wheels in the total. If your baggage exceeds the maximum measurements, you will be required to check it in for a fee. 
In the event you need to gate-check your bag, an staff member will give you a green tag. Your baggage will then be handled by a handler and stowed in the plane's cargo compartment. Upon landing, you will be able to pick your baggage up at the gate/jetway rather than at baggage claim. 
If you are traveling with medication you may need during the flight, it is advised that you carry them in one of your personal items, such as a small bag or purse so that you will have quik and easy access to them during your flight. In addition, if you are traveling with personal vaporizers and/or  e-cigarettes, you must place them in your carry-on bag or personal item. These items are not allowed to be checked in.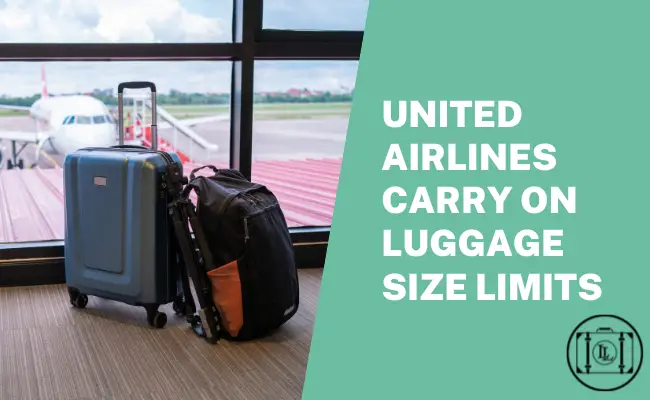 Traveling with Special Items on United
Fragile Items: If your item is fragile and/or does not meet the checked-in size limits, you may purchase a seperate ticket for it. You will then be permitted to use a seat for the item. 
Liquids, gels, and aerosols: As per the TSA, there are some restrictions on liquids, gels, and aerosols. These items must be in containers that measure 3.4 ounces (100 milliliters) or less. They must also be inside a single quart-size or liter-size clear, sealable bag. Some items are exempt, such as baby formula and medication. 
Powder based substances: All items that resemble powder are advised to be placed in your checked in baggage. The TSA does not allow customers traveling to or within the U.S. to pack powder-based substances greater than 12 fluid ounces (350 milliliters) in their carry-on bag. There are exceptions, including baby formula, prescribed medications, human remains, and duty-free powders. These items must be sealed in a tamper-evident bag.
United Airlines is one of the leading names in the airline industry. With a strong focus on customer service and safety, United truly sets the standard for excellence in air travel. If you're planning your next trip, make sure to book your tickets with United and experience what it means to be part of a truly world-class airline. You won't be disappointed!