If you want the spirit of Hawaii from start to finish, Hawaiian Airlines is the way to go. Beginning with the exterior plane design to the Hawaiian music and complimentary mai tais served on board, Hawaiian Airlines offers travelers a full island experience. It doesn't stop there. 
Here are just a few more reasons why Hawaiian Airlines is a great choice for travelers:
They have an exceptional safety record and are one of the most punctual airlines in the world.
The airline offers free inflight entertainment and delicious meals included in the price of your ticket.
Hawaiian Airlines provides excellent customer service, both before and during your flight.
The airline has a modern fleet of aircraft, which makes for a comfortable travel experience.
Hawaiian Airlines flies to many destinations around the world, so you can easily find a flight that suits your needs and budget.
To begin planning for your next trip, you may want to refer to the following luggage rules and requirements so that you can enjoy a seamless experience. 
All passengers are allowed one personal item and one carry on, free of charge. Personal items must be able to fit underneath the seat in front of you, while carry-on baggage must meet specific size requirements. 
Carry On Baggage Limits for Hawaiian Airlines
| | | | | |
| --- | --- | --- | --- | --- |
| | Length | Width | Height | Weight |
| | 9 | 14 | 22 | 25 pounds |
If necessary, Hawaiian Airlines reserves the right to stow any carry-on in the cargo storage compartment of the aircraft. 
Exceptions to carry-on rules include medical devices, musical instruments, and ancillary items, provided they are able to be safely secured in the overhead storage compartments of the aircraft. While these items do not need to meet the standard carry-on size requirements, they must be able to fit in the spaces provided, and only if there is sufficient storage available. 
Examples of ancillary items that are allowed at no extra charge are food, handbag, camera, coat or jacket, small pillow, diaper bag, etc. 
Should you be required to check in your baggage, youst be sure to follow the following size guidelines. Also, please note that if your bag exceeds the size or weight requirement, you will be charged additional fees for transport. 
Hawaiian Airlines Checked Baggage Limits
| | | |
| --- | --- | --- |
| | Measurement | Weight |
| Inches | 62 linear inches | 50 pounds |
To measure the bag, add length + width + height. The total measurement shall not exceed 62 inches. As per the Hawaiian Airlines website, the following table can be referred to for guidance on pricing according to destination.
For travel between points within the State of Hawaii:
| | |
| --- | --- |
| Checked Standard Bag | Per Piece Charge (Each way) |
| First | $25.00 |
| Second | $35.00 |
| Third and each additional | $50.00 |
For all Domestic travel that is not wholly within the State of Hawaii:
| | |
| --- | --- |
| Checked Standard Bag | Per Piece Charge (Each way) |
| First | $30.00 |
| Second | $40.00 |
| Third and each additional | $100.00 |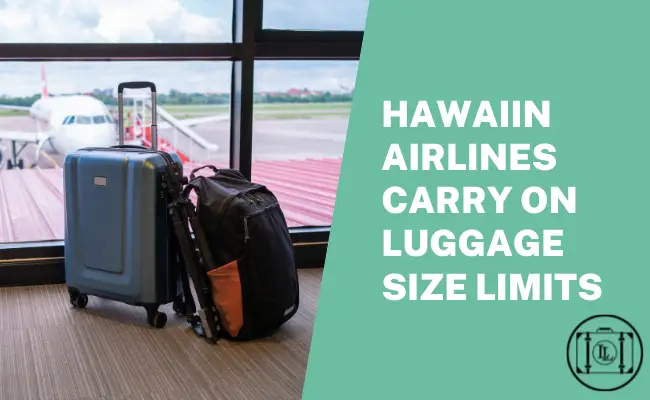 FAQ
How Can I Check in My Sporting Equipment? 
Hawaiian Airlines makes every effort to accommodate travelers with all baggage and item needs. Due to the unique destination and array of activities on the island, Hawaiian Airlines has an extensive section on their website for detailed instructions on various items, including sports and outdoor  equipment and musical instruments. Please refer to the website to learn about traveling with your specific item. 
Can I Bring My Service Animal on the Plane? 
A trained service dog may accompany a traveler permitted they are specifically trained to assist or help that traveler with a qualifying disability. Travelers must complete the Department of Transportation Service Animal Air Transportation Form, prior to travel, which is available on the Hawaiian Airlines website. For the safety of all travelers, service animals must be contained within the travelers immediate space at all times and must not be disruptive or aggressive in any way. 
Can I bring My Child's Stroller on the Plane? 
Strollers are allowed to be brought to the boarding gate, where it will then be tagged and stored without additional fees. Upon arrival at your destination, you may pick it up at the jetway/gate. 
Can I bring a Wheelchair or Walker on Board? 
Passengers who require the use of a wheelchair or other mobility device may bring it on board without additional costs. Airline staff will assist with assembling and disassembling in order to accommodate them for carriage. Any non-collapsible or or battery operated devices will be required to be checked in. 
Hawaiian Airlines strives to provide the best possible experience for every customer. They have ensured a smooth and enjoyable travel experience by making their rules and procedures very clear on their website. User friendly and broken down by easy to find sections according to topic, travelers can plan with full confidence. You can turn on the Hawaiian music, and start packing your bags. The island awaits you!