Jet Blue, the sixth largest airline in the U.S has described itself as being on a mission to bring humanity back to air travel, offering spacious (economy) legroom, good service, and great inflight food. Based on nearly 20,000 reviews on Tripadvisor, JetBlue rates a 4 out of 5, which is great in comparison to other low cost airlines. If you are looking to fly at budget friendly prices, JetBlue may be a great choice- just know their carry on size limits. 
With straightforward luggage policies, JetBlue offers passengers a stress free experience from start to finish. Before your next trip, take a look at the baggage rules and requirements to make sure that you will be within their policies. For your convenience, we have put together a quick reference to help in your planning. 
Carry On Baggage Limits for Jet Blue
| | | | | |
| --- | --- | --- | --- | --- |
| | Length | Width | Height | Weight |
| Inches | 22 | 14 | 9 | N/A |
| Centimeters | 55.88 | 35.56 | 22.86 | N/A |
The above measurements include handles and wheels. While there is no weight limit for carry-on baggage, you must be able to safely lift it above your head to place in the overhead storage bins. 
All passengers who purchase Blue, Blue Extra, Blue Plus, and Mint fares are permitted two carry-on items: one personal item and the above listed carry-on baggage. Personal items include a purse, small backpack, briefcase, laptop, etc.and must fit beneath the seat in front of you. JetBlue does not assume any liability for lost or damaged items that are carried on board. 
If you are flying using the Blue Basic Fare, you are allowed to bring one personal item, including a briefcase, laptop, small backpack, purse, etc. Any additional items must be checked in as you may not bring carry-on baggage. Please visit the JetBlue website for exceptions. 
In addition to one carry-on bag and one personal item, the following items are allowed and will not count against the limit according to Jet Blue: 
Assistive devices
Duty-free items in a reasonable and limited amount
One diaper bag for lap infants
Special items (coat, umbrella, infant car seat, etc.)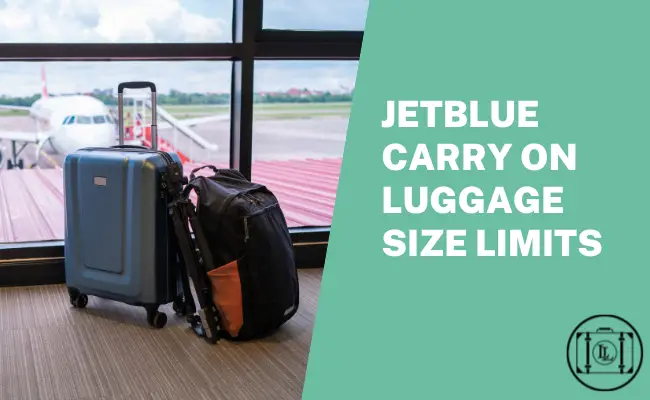 FAQ
Can I add a carry-on to my Jet Blue Basic Fare? 
Passengers may not add a carry-on to their Blue Basic Fare. All bags must be checked in for a fee. If you would like to bring a carry-on, you may do so by purchasing an Even More Space seat (subject to availability). With this option, passengers receive seats with additional leg room, priority boarding, and first access to overhead bins. 
Should you arrive at the gate with baggage under the Blue Basic Fare, you will be charged $65 if it is your 1st or 2nd checked bag and $180 if it is your 3rd bag and it would need to be checked in. 
Are there any exceptions to the new Jet Blue Basic no carry-on rule?
As per the JetBlue website, there are exceptions. Mosaic members, travelers to/from London (including connecting flights), travelers that are combining a Blue Basic fare with an Even More® Space seat (on all legs, if connecting), active U.S. military and unaccompanied minors may still bring a carry-on bag.
And, if you're traveling with a pet on a Blue Basic fare, you will be permitted to bring a personal item and an approved pet carrier.
Blue Basic Customers traveling to/from London get a carry-on and personal item included in their fare.
Can I bring a pet with Jet Blue Basic fare?
While you may bring a pet with Blue Basic fare (space permitting), this fare does not include a carry-on bag, which means you will be limited to one personal item and your pet carrier. 
JetBlue has streamlined their services to better accommodate their passengers. By referring to and following all of their baggage policies before your next trip, you will be set and ready to roll…or fly. With plenty of flight options and amenities, you'll be sure to have a comfortable and enjoyable flight.