One of the toughest things for luggage companies to do is to create a large suitcase (approx 28″+) that is both durable and lightweight. We were pleased to see that Mia Toro was able to accomplish both of those tasks with the Adige line. Below is our review of the Mia Toro Adige 28″ suitcase.
Light as a feather!
Right off the bat we have to talk about the weight of the bag, because we were blown away. We don't know how they did it, but Mia Toro has created a 28″ suitcase that weighs only 6.8 lbs, this is crazy light for a large suitcase and could be the lightest we've ever seen for the size. Most 28″ suitcases weight about 8-12lbs on average, so this is a pretty interesting feat. Whether you're using it or storing it, having a lightweight suitcase is a very underrated feature.
*If you are on a quest to get the lightest 28″ luggage, Mia Toro makes a 28″ suitcase called the Leggero which weighs just 5.2 lbs – that's insane for a 28″!
Features
Expansion Compartment
The Mia Toro Adige is available in softside polyester material that offers an extra 2″ expansion. There is a ton of room inside when you unzip the expansion zipper which allows for more storage space if needed. The extra 2 inches may not seem like a big deal, but according to Mia Toro, this adds an additional 25% of storage volume – this is a HUGE help. If you're in the market for the largest suitcase size, you're going to want the option to expand it to store even more.
360 degree spinner wheels
We've written previously about the benefits of 4-independent spinner wheels, and we're glad to see them incorporated in the Adige. The Glide-Tech wheels are very smooth and allow for easy mobility, especially around an airport. Luggage usually comes with either 2 inline wheels or 4 spinner wheels, and we prefer the spinner option. Spinner wheels offer a much more mobile experience which we've grown to appreciate after seeing so many types of luggage over the years.
Inside of the bag
Inside of the suitcase is pretty standard, no need to reinvent the wheel. But it does offer compression straps to help when storing excess items. The inside is lined with a nice looking inner liner featuring the Mia Toro logo in a decorative pattern.
Sometimes when you open up a brand new suitcase, you experience a slightly unpleasant odor that can take a while to go away. When we opened the Mia Toro Adige we were pleasantly surprised that it was completely odorless. It's the little things that we've learned to appreciate!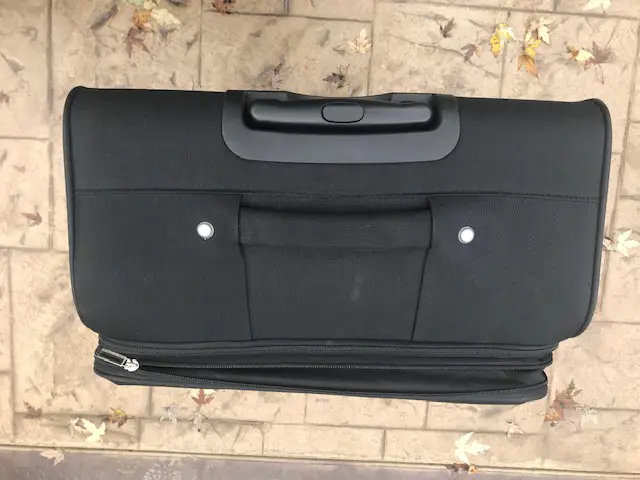 Outside of the bag
We appreciate the simple and elegant design of the Adige. There's no need for a bag to have 15 different zipper compartments on the outside of it, so we like how Mia Toro kept things simple and necessary with the outside of the suitcase. You really only need 2 different outer compartments, and that's what the Adige comes equipped with, anything more and we'd lose track of where we put our items.
The telescoping handle is very strong despite being made of lightweight material. We like how it has 2 preset telescoping lengths: fully extended and short. Next to the telescoping handle is the fabric handle which is extremely well made and is great for lifting the bag after you've stuffed it to the gills. You'll find a matching fabric handle on the long side of the bag as well. It helps to hold both of those handles to get the most leverage when lifting the full suitcase.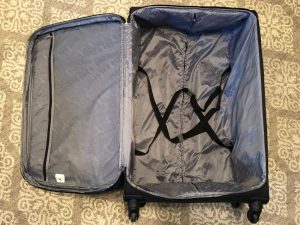 Great Price
Large (28″+) luggage tends to be the priciest, but Mia Toro offers super affordable pricing for their entire line including the Adige model. The Adige 28″ retails for $300, but you can find great deals on their website where you can take over 50% off and buy it for around $120. Factor in the free shipping and you've got a steal for an incredible suitcase. Also, subscribe to their newsletter and you may get a coupon for an even greater discount.
10-Year Cloud Protection Warranty
Mia Toro ITALY offers an excellent protection plan on all their products, not just luggage. The Cloud Protection plan begins as soon as you purchase your luggage and covers all repairs in the event they are needed. Typically warranty programs can be confusing, but Mia Toro makes it easy with their mobile app.
---
Mia Toro has a great line of Italian designed luggage with something for everybody. Their luggage comes in solid colors and an array of designs depending on the line. The Adige line comes with a nice choice of 4 classic colors: black, blue, gray, or brick. We prefer the black color, but a frequent traveler may want to go with a more uncommon color like 'brick' so they can easily identify their suitcase on a crowded conveyor belt.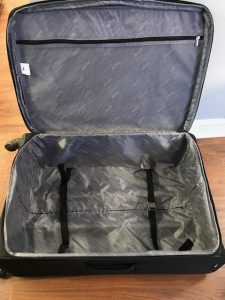 Overall, we love the Mia Toro Adige. The Adige is a great value for a classic design that is exceptionally lightweight. The Adige is the best lightweight 28″ suitcase that we've ever reviewed. It really is incredible how they were able to create something so durable and under 7 lbs.
You may not be familiar with the Mia Toro luggage name but you should. You can't beat the quality of the suitcase when considering the price range. Mia Toro luggage looks like it should cost a lot more than it does because if it's Italian design. Whether you want something classic or modern, Mia Toro has something in their line for you.