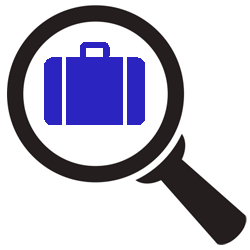 For those travelers who check luggage, the biggest fear is becoming separated from that luggage. Some travelers have had enough lost luggage horror stories that they swear to never check a bag again. For those of us who aren't able to carry on all the time – we suggest getting a good luggage tracker.
2 Types of Luggage Trackers
The term "luggage tracker" can refer to two types of devices:
Bluetooth luggage tracker– Bluetooth luggage tracking is much cheaper to buy than GPS, and free to use going forward. However, the obvious drawback is that the device will only work within a typical Bluetooth range of your phone, or open wifi. A typical Bluetooth range can be up to 100 feet, which does not make this style the best luggage tracker if your bag is truly lost.
GPS luggage tracker– The only real way to track anything from anywhere, including luggage, is to use a GPS tracking device. The drawbacks for this style is that they are pricier than the Bluetooth style, and require a monthly or yearly fee to maintain service. Unlike the Bluetooth version – GPS devices are battery powered and need to be recharged between travels. A dead battery will make your tracking attempts useless.
Best GPS Luggage Tracker
We suggest the GPS style if you want to know where in the world your luggage is at any moment.
Personal GPS Tracker by PrimeTracking LLC
In the crowded space of GPS trackers, the most popular are frequently white labeled under various brands. Based on reviews we chose the PrimeTracking model because of its ease of use and integration with your cell phone thanks to their simple smartphone app. You can find these for around fifty bucks. To maintain service you'll pay around $25/mo, basically like having an extra cell phone line, though much cheaper. The PrimeTracking model is incredibly small and lightweight, making it perfect to place inside your luggage without sacrificing baggage space or weight limits.
The battery has been known to last up to 2 weeks, but you'll want to charge it every chance you can just to be safe. Another cool thing to consider is your tracking is not limited to your luggage. It won't permanently attach to your suitcase, so when you're not traveling you could track other things with it so you're not paying the monthly fee for nothing. We found luggage tracker reviews from customers who have used this device to track teen drivers, and even several who tracked significant others who they suspected of cheating (yikes!). We do not encourage this usage, we just wanted to highlight secondary uses according to owners.
Best Bluetooth Luggage Tracker
As we've previously stated, we don't suggest the Bluetooth style, however if you don't want to spend a lot of money, or have different needs, we suggest the Tile Mate.
Tile Mate
If you want to spend less than 20 dollars, and don't want to pay a monthly fee, the Tile Mate could be for you. Outside of a 100 foot range your luggage's location will be unknown unless it can tap into an open wifi network. This device will not help you if your luggage is truly lost and separated far from your current location, but if you're wondering when you can expect to see your luggage coming off the baggage carousel, this will help.
They may not be the best for luggage, but it would be smart to get the 4-pack and use the extra tags for things like your keys or anything else that gets misplaced around your home. That is what Bluetooth locators were really made for – but we hope that someday the technology can improve and these will become the more affordable option for luggage tracking.
Tracking technology has come a long way over the years, and there's still quite a ways to go. For now, if you want a good luggage tracker, we suggest going with a GPS tracking device for optimal accuracy no matter where you are.