Looking for luggage can seem daunting when you see how many brands are competing for your attention. Some are household brand names, and others you may be hearing about for the first time. Either way, we went through extensive research to determine the top ten best luggage brands. Below you'll find the 11 best luggage brands for travelers of all budgets for this year:
Best Luggage Brands Top 11 Guide
1. Samsonite
Founded: 1910
Headquarters: Luxembourg City, Luxembourg (Originally Denver, CO)
Carry-on price range: $80-$500
Does Samsonite deserve the coveted top spot for best luggage brand? The short answer: Yes. Samsonite comes as the most highly-rated luggage brand when considering an average budget, which is why we consider it to be the best luggage brand for most people. This brand has a vast catalogue of luggage that includes luggage sets and carry-ons with hard and soft cases, bags with wheels or over-the-shoulder straps and almost any other bag category imaginable. We've gone ahead and written about Samsonite luggage reviews for all the top luggage types.
Although Amazon customer reviews prove that Samsonite has a lot to offer the luggage shopper, Samsonite can be beat if you are looking for the best quality and are willing to spend more money. However, if you ask someone with limited knowledge about luggage to name a brand, he or she will almost always come up with Samsonite first. This is a testament to the brand's longevity and reputation of continuing to put out exceptional products for the price.
Our Favorite Samsonite Suitcase: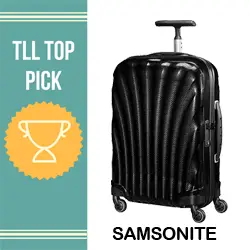 Cosmolite – Samsonite is the luggage brand with the widest range of products for a wide range of budgets. Samsonite offers luggage for as little as $80 as well as more high-end suitcases to compete with Tumi, mainly the Cosmolite. The Cosmolite is offered in the 3 standard sizes: small (20″), medium (25″), and large (28″).
What stands out with the cosmolite is the same reason why we love it so much, because it is insanely light-weight! The Cosmolite just feels different than the typical Samsonite bag because of the high-end quality of the hard case. The carry on only weighs 4.5 lbs, so if you have the money – we're certain you'll love the Cosmolite as much as we do.
If cost truly is not an issue, our hands-down favorite luggage brand is Tumi. Tumi suitcases are a step above Samsonite when it comes to overall quality, but also price – which may put them out of reach for the average luggage shopper. Tumi manufactures a wide range of suitcases and bags, giving them quite the catalog. Shoppers with a larger budget will really like what they get from Tumi. All in all, Samsonite and Tumi really are the best luggage brands.
2. Tumi
Founded: 1975
Headquarters: South Plainfield, NJ
Carry on price range: $500-$2,100 (yes, really.)
Read our Best Tumi Luggage of the year post.
'Tumi or not Tumi?, that is the question!' Is Tumi the best luxury luggage brand? We absolutely think so! And so do thousands of owners who write reviews all over the Internet. Tumi owners are extremely brand loyal and we typically find Tumi luggage owners who are going on 20+ years of being a loyal Tumi customer. Tumi is widely considered to be a luxury luggage brand, which is why it's listed on our top luxury luggage brands article. Depending where you live, there are Tumi stores in some moderate to high-end shopping areas and malls, which is great if you want to go and see the lineup in person.
Yes, Tumi luggage is quite expensive compared to the other brands listed on this page, however, you can expect a longer life from Tumi over other brands. Tumi luggage owners time and time again rave about how long their bags last, sometimes through generations! Tumi suitcases typically start at around $500 and can go all the way up to $1,000 just for one suitcase. This may seem expensive at first, but if you are a frequent traveler, you know that luggage durability is important.
A $100 suitcase may experience some wear and tear much faster than a high-end Tumi bag. In 20 years, you may have bought several bags, when you could have just bought a Tumi bag once that would last you the entire 20 years. You'll note that the Tumi luggage HQ is located in New Jersey; however, their luggage is actually manufactured outside of the US in various factory locations. This can also be said for the rest of the brands on our list. It's tough to find an entire luggage line that is actually made in the U.S. We consider Tumi to be one of the best luggage brands if you have the money to spend.
Our Favorite Tumi Suitcase: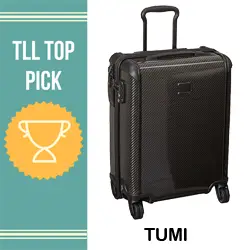 Tegra-lite – Tumi is our favorite brand, and the Tegra-lite is our favorite model. The Tegra line has that quintessential Tumi look and helps make Tumi one of the most recognizable luggage brands because of the elegant styling and features. The Tegra line has the carbon fiber look and feel that we love, and each year the suitcase seems to be offered in different color options to help keep the look fresh.
Aside from looking amazing, the Tegra is famous for being one of the most lightweight luggage offered by Tumi, if not the lightest. Add in the fact that there is a built-in TSA luggage lock and Tumi Tracer location service and you've got yourself one of the best suitcases available today.
UPDATE: Tumi has officially been acquired by rival Samsonite to the tune of 1.8 billion dollars, which was officially announced August 1, 2016. This will most likely not mean much to the consumer. Samsonite knows that Tumi is a great brand on its own, and Samsonite will not try to step in and ruin that. In fact, Tumi sales are forecasted to double by end of next year. Samsonite may be on the hunt to acquire even more luggage brands, so stay tuned to see how it all unfolds.
3. Briggs & Riley
Founded: 1993
Headquarters: Hauppauge, NY
Carry on price range: $300-$700
Briggs & Riley stands out from the other luggage brands because of their lifetime warranty repair guarantee on all their bags! This lifetime repair guarantee covers the life of a bag for all functional aspects, and many customers think that spending more for these high-quality bags is worth that peace of mind. The guarantee aligns with the company philosophy that customers are family, and to look out for one another and have integrity.
Briggs & Riley listens to their customers, retail partners, and repair experts to engineer their products for the real-world. The brand has pieces and lines that focus on different traveling needs ranging from bags with innovative technology to modern smart backpacks. Briggs and Riley is one of the best luggage brands for frequent flyers who don't have time to deal with luggage issues and malfunctions- these bags are built to last!
Our Favorite Briggs & Riley Suitcase: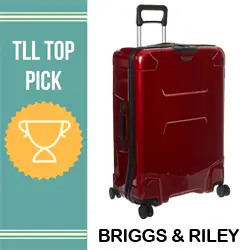 Torq – This was a tough one, because Briggs & Riley offers a lot of amazing, luxury luggage. We believe the best hard-sided Briggs & Riley bag is the Torq, and the best soft-sided suitcase they offer is the Baseline. Having said that, go with the style that you prefer, but we will give the slight edge to the Torq suitcase.
We've heard that not everyone is a fan of the looks of the Torq, as it looks a little boxy and rugged, but we think it looks great. The hard shell is extremely durable, and if you go with one of the bright colors, you'll never have a hard time seeing your bag come down the luggage carousel.
Many owners have said that this will be the last piece of luggage they will buy and would buy again if asked. This luggage brand comes highly recommended based on excellent quality, design, and volume capacity, and its interior features allow you to securely manage all your items. Definitely check out the Baseline luggage line that they offer if you want a soft-side, and the Torq if you're looking for a hard-sided carry-on.
4. Vessel
Founded: 2012
Headquarters: Carlsbad, CA
Carry on price range: $275-$295
Vessel is the latest addition to our constantly evolving list of best luggage brands. Vessel didn't always make luggage, they began making specific bags like golf bags and then totes and backpacks. We were huge fans of their duffels and were super excited to see them enter the luggage space.
Not only are vessel bags super nice, but they have a wonderful mission that they stand behind. For every Vessel bag purchased, they buy a backpack for a child in need. We don't see this much in the luggage space so it's very encouraging to support a brand with a mission like that.
Our Favorite Vessel Suitcase: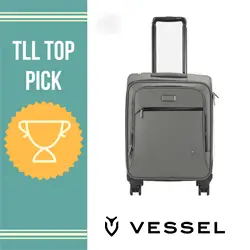 Signature 2.0 luggage– The Vessel Signature 2.0 carry on is an exceptional suitcase. The faux-leather feels and looks like the real thing and comes in a nice array of colors. There's a front laptop compartment that's a nice touch for people who want easy access to their computer.
The zippers are very high quality and feature the Vessel logo on them. The zippers for the main compartments allow for a luggage lock for added security. We've seen cheap zippers and they tend to be one of the first parts to break on a suitcase, but these are extremely sturdy and will last you a long time. For our full review, check our Vessel Signature 2.0 luggage review post.
Overall we're big fans of the Signature 2.0 soft-sided carry on. We've loved everything we've reviewed from Vessel and hope they continue making new and exciting products, further solidifying themselves as one of the best luggage brands.
5. Travelpro
Founded: 1987
Headquarters: Paris, France
Carry on price range: $70-$340
Travelpro is one of the best luggage brands to revolutionize modern-day travel. The inventor of the Original Rollaboard, Robert Plath, was a pilot who placed two wheels and a handle on a suitcase. He started Travelpro International, and the brand has been a leader in the travel industry.
Travelpro has received many accolades over the past twenty years. 2014 marked the second year in a row that the brand was voted World's Best Luggage by Premier Traveler Magazine. The brand claims to be used by more than 500,000 flight crews and frequent travelers worldwide, more than all other brands combined.
Our Favorite Travelpro Suitcase: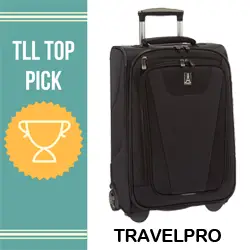 Maxlite – If you want something traditional and affordable, go with the famously well-reviewed Maxlite line offered by Travelpro. Maxlite is the signature line of the Travelpro brand and finds itself being updated and refreshed every so often. Currently the Maxlite series is in its 4th iteration and has never been better.
The Maxlite series is a bit unique in that it is offered in both wheel types: spinner and inline. Not many suitcases are offered in inline since most people think that they prefer the 4 spinner wheel setup, however anyone who has ever experienced a broken spinner wheel would be happy to learn that inline wheels are much more durable. Go with the style you prefer and you won't be disappointed.
Look to this brand if you are looking for garment bags, suitcases, computer bags, totes, backpacks, and rolling duffel bags that are durable, functional, and lightweight. These bags undergo rigorous testing protocols that replicate real-world conditions to ensure they meet quality standards for zippers, fabric, extension handles, wheels, temperature, and water repellency.
6. Delsey
Founded: 1946 (began luggage production in 1970)
Headquarters: Paris, France
Carry on price range: $75-$400
Delsey was founded over 70 years in Paris, and its history tells of the brand's ability to adapt to the changing world. With over 50 awards and patents, Delsey should not be overlooked. We have found Delsey to be extremely reliable, resilient, and functional while also being very high-quality as well. Delsey luggage designs feature clean lines, vintage selections, and urban inspirations.
Before selling great luggage, Delsey was a manufacturer of small cameras and typewriter cases in Paris in 1946 before becoming one of the best luggage brands. In a famously successful business pivot, they were able to adapt to the changing world to make travelling cases and suitcases. The name Delsey was created thanks to the merging of the Delhaye company and Seynhaeve brothers to manufacture luggage after seeing an increase in people travelling.
You may be surprised to hear that Delsey is the second largest luggage company in the world with its distribution network covering over 110 countries. When we think of Delsey, the words that the brand exudes are hope, optimism, craftsmanship, and expertise.
So again, we ask… Why is Delsey one of the best luggage brands? Because they have amassed over 50 awards and patents, in addition to many innovations including the world's first "Trolley System", "Zip Securi-tech" Over weight indicator" "Brake system", Shell in Technical Lin, "Front pocket on hardside" and more.
Our Favorite Delsey Suitcase: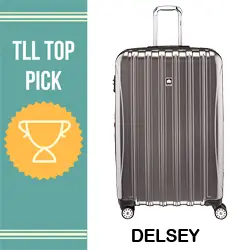 Helium Aero – After amassing more than 475+ reviews and counting, the Helium Aero luggage line by Delsey is easily their most well liked suitcase and also our favorite of any that they offer. Desley is a great brand and our favorite piece of luggage they offer is the Helium Aero for many reasons.
Helium Aero suitcases come in fun and unique colors to match your personal style. The hardsided material is quite light and the spinner wheels are some of the smoothest we've ever seen, making it a breeze to roll around the airport. The price is also quite fair as well, you can usually find a Helium Aero carry on very close to the $100 price point that a lot of people prefer to stick to.
Features of some Delsey suitcases include surface treatment "Easy-Wash", updated looks, handmade bags, and soft-touch finishing. Form meets function meets flair is the best way to describe it all together.
7. Victorinox
Founded: 1884 (began luggage production in 1999)
Headquarters: New York City, NY
Carry on price range: $220-$860
You may have seen Victorinox's logo before, but not on a suitcase. Rather, you may have seen it on a pocketknife. Victorinox is the parent company of the manufacturers of the famous Swiss Army Knife. There's a lot of confusion around Victorinox because people see the same logo being used for Swiss Gear and also Wenger. The short answer is that Victorinox is the overall, parent company. Victorinox owns Wenger, and Wenger manufacturers Swiss Gear.
All three of those companies technically manufacture luggage under their respective names. Wenger and Swiss Gear are good brands if you have a moderate budget. However, if you're looking for the best luggage brand of the three, we suggest going with Victorinox.
Victorinox is not cheap, as a typical suitcase will run you around $300 or more. What you are paying for is the meticulous quality and durability that is synonymous with the Victorinox name. Victorinox is one of the best luggage brands that offers a healthy mix of hard-sided and soft-sided luggage as well as duffels, backpacks, and various totes.
Our Favorite Victorinox Suitcase: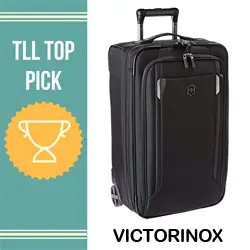 Werks Traveler – The Werks has not been around as long as a lot of our top picks from other brands, but you will fall in love with their new premier Werks line. Like most Victorinox luggage, the Werks Traveler does not come cheap, however it will last you a long time. "Packs more, Weighs less" is the official motto of the Werks line, according to Victorinox.
The Werks line hearkens back to the original Swiss Army Knife and all it's unique capabilities. Victorinox Werks Traveler suitcases come with a removable suit carrier as well as a divider to help your organize your clothes better. Victorinox is a brand that we've trusted for a long time, and we're so happy that they make great luggage like the Werks.
You could probably guess that Victorinox has a long and storied history, and you'd be right. Although they only started making luggage in 1999, they have quickly caught up to some of the giants in the luggage industry.
8. Kenneth Cole
Founded: 1982 (began luggage production in 1996)
Headquarters: New York City, NY
Carry on price range: $50-$120
On the surface, Kenneth Cole may seem like one of those luggage brands that sells way too many different types of products to actually make any of them well. You'll be pleased to know that that is not the case with their affordable luggage line.
Kenneth Cole is an American designer based out of New York who originally made and sold shoes. Through the years, he added more products to the line, including the "Reaction" line of luggage and other accessories. Kenneth Cole may sound like the name of some fancy and expensive designer's items; however, the Kenneth Cole Reaction luggage line might be the most affordable luggage on our entire list.
We've written a great post covering several different Kenneth Cole luggage reviews Just about every KC suitcase can be purchased for less than $100, some even around the $50 price point! From a cost and real durability standpoint, they make our best luggage brands list.
Our Favorite Kenneth Cole Suitcase: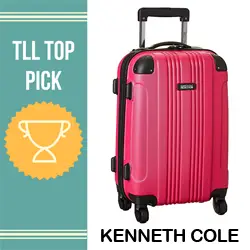 Reaction – The Kenneth Cole Reaction is one of our favorite suitcases of all time for many reasons. For one, the price point is virtually impossible to beat for the quality that you are getting. A Reaction carry on will never run you more than $100, yet so many reviewers all over the Internet are infatuated with this little suitcase.
There aren't any crazy features that will blow your mind, simply put this is a bargain pick that offers you the quality of a more expensive suitcase. Buying a Reaction might be your best sub-$100 carry on purchase. Also, don't worry, the Reaction comes in many colors other than pink : )
The majority of Kenneth Cole luggage is hard-sided, which is great for a less-expensive suitcase because it ensures that you'll still get the benefits of added durability. If you have a small budget, Kenneth Cole is a shoe-in for our best luggage brands list.
9. American Tourister
Founded: 1995
Headquarters: Commerce, CA
Carry on price range: $70-$180
Aside from Samsonite, American Tourister might be the most popular brand you'll find looking around at an airport. Much like Samsonite, American Tourister is an excellent brand for a moderate budget, and can be purchased in most department stores or online. What you may not know though is that American Tourister is owned by Samsonite.
Our Favorite American Tourister Suitcase: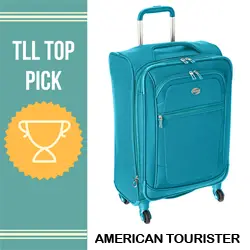 ILite Xtreme – There really isn't anything "Xtreme" about this particular suitcase but we love it anyway. Much like the Reaction above, don't be scared away by the bold teal color, the ILite Xtreme is available in many bold colors as well as traditional, even some patterns from time to time depending on inventory! Any time you can get a great spinner suitcase for under $100 we are curious.
There are a lot of defective wheels on cheap spinner suitcases but those found on the ILite Xtreme are some of the strongest we've seen and other reviewers seem to agree with us. The built-in fabric handle on the top AND the side accompany the telescoping handle making it a breeze to carry any which way you prefer. American Tourister is one of those flagship brands that you see all over the airport, and the ILite Xtreme is the best of the lot for your money.
American Tourister is not the same quality as Samsonite, but you will find it to be slightly cheaper in price than Samsonite- making it a great pick for our best luggage brands list. Another advantage to the American Tourister selection is all the great luggage for kids. The key is that they have licensing rights to print Disney designs. You'll find a lot of the classic Disney characters and movies as well as Star Wars and Marvel designs for kids. American Tourister is a luggage brand that has great suitcases for the entire family.
10. Traveler's Choice
Founded: 1984
Headquarters: Pomona, CA
Carry on price range: $40-$160
Another great choice is Traveler's Choice, which is one of the best luggage brands we've come across. They are one of the best brands because they offer such a wide range of luggage that will appeal to any traveler with any budget.
Their luggage is offered in single pieces, but also in sets of 2, 3, 4, and even more than that. Offering a healthy mix of hard-sided and soft-sided luggage options, Traveler's Choice comes well-reviewed by owners all over the Internet.
Traveler's Choice offers one of the most unique things we've seen in the luggage industry: custom print suitcases. With this option, you are able to upload any custom image that you own the rights to, and it will be printed on a 22" carry on suitcase. Make sure you have a high-resolution version of the image that you fully own the rights to.
While some people think that buying a bright color suitcase will help them identify their bag at the airport carousel, the best way to be unique is to put your own custom photo on your suitcase to really make it your own. We are huge fans of luggage innovation, which is why we love Traveler's Choice.
Our Favorite Traveler's Choice Suitcase: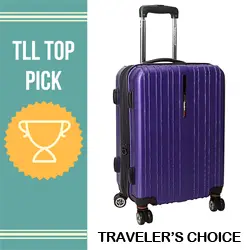 Tasmania – Maybe we're partial to luggage named after places in and around Australia, but like the Melbourne, the Tasmania is an excellent option if you're looking for reasonably priced hard-sided luggage. Many of Traveler's Choice luggage is offered in sets, including the Tasmania suitcase. The poly-carbonate shell allows for "flexing" which helps the suitcase not to crack under extreme wear and tear or extreme climate conditions.
The shell is also diamond cut and abrasion resisting, making it an awesome pick if your top priority is durability. One of our favorite features is when a brand offers a suitcase offers an expandable hard-sided suitcase at a reasonable price. Traveler's Choice is one of the best luggage brands for that reason among so many others. If you're looking for a new brand to try out, and have durability as a priority, take a peek at the Tasmania offered by Traveler's Choice.
11. AmazonBasics
Founded: 2009
Headquarters: Seattle, WA
Carry on price range: $40-$70
You may have seen the AmazonBasics brand before in a different iteration. AmazonBasics was created by Amazon when they saw opportunities in certain categories being sold on their website. They began selling electronic accessories like cords and chargers in 2009, and have since branched out to hundreds of different categories. They made our list because they have decided to enter the luggage market, and make a very affordable suitcase.
The affordability combined with the good quality standard we've come to get from AmazonBasics products instantly makes them one of the best luggage brands. Because they can control the supply chain, they are able to offer decent luggage at very affordable prices. They don't have the same vast offering as Samsonite, but with the models they do sell, you can't really go wrong for the price.
AmazonBasics offers luggage options such as hard or soft shell, single or sets, as well as various sizes from carry on to over-sized. We're guessing that Amazon will keep expanding their luggage line, but for now we've got them sneaking it at #11. We hope to see more from them in the future as well as a little more improvement in the current line. However if you only have around $50 to spend on a suitcase, AmazonBasics is a great budget-friendly choice.
---
What's in a brand name?
Buying luggage is like buying anything else; you can easily get lost in a sea of brand names, not knowing if there is truly any correlation between the price and the quality. There are certain brands that we personally feel are overrated and overpriced for the quality.
Those brands were not include them on our list and will not mention them here. Each of the 10 best luggage brands on our list above will not disappoint you, and you can count on that.