One travel products brand we've always been a fan of is Vessel. A few years ago we wrote a review for the Boston duffel bags- totes that we were a big fan of. We were thrilled to learn that Vessel has entered the luggage space and couldn't wait to get our hands on some to review. Without further ado, here's our review of the Vessel Signature 2.0 carry on luggage.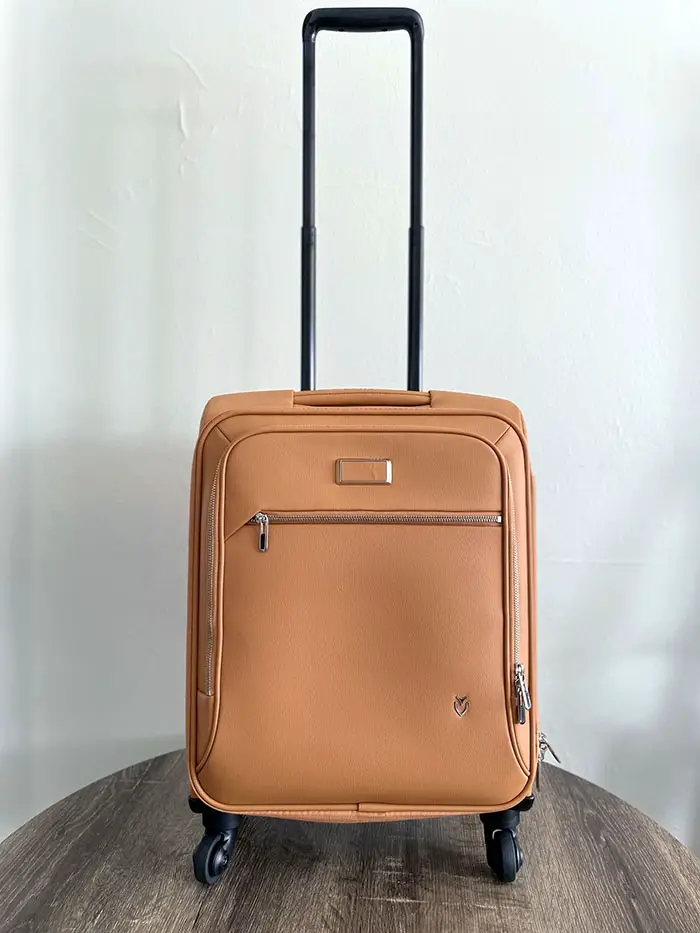 First Impressions
There is a nice selection of uncommon but chic colors to choose from. If you'd rather go with a standard color there's a nice gray. However if you want something a bit more unique you can go with stone (off-white), rose gold, neo-mint, or tan. We chose to review the latter. We have enough black luggage and really thought the tan was a very luxurious choice.
The carry on looks very nice and the faux leather gives it a very high-end look and feel. Every part of the suitcase appears to have high quality materials. The zippers especially are very solid and have a nice weight to them. On cheaper bags, the zipper is usually the 2nd thing to break after the handle, and we can tell that these zippers are quite sturdy and smooth.
There is a padded and embossed handle on the top and the side so you can carry it comfortably either way. The handles are embossed with the Vessel brand name which is a nice accent.
Outside the bag
Outside we love the faux leather that appears soft but still durable. The tan was a great choice and will make it especially easy to spot if we decide to check it at the airport.
The telescoping handle is metal but extremely light-weight and let's you lock it into a few different positional lengths.
The 4 spinner wheels are reinforced at the base of the suitcase which is a good sign that they'll last much longer than a suitcase of lower quality.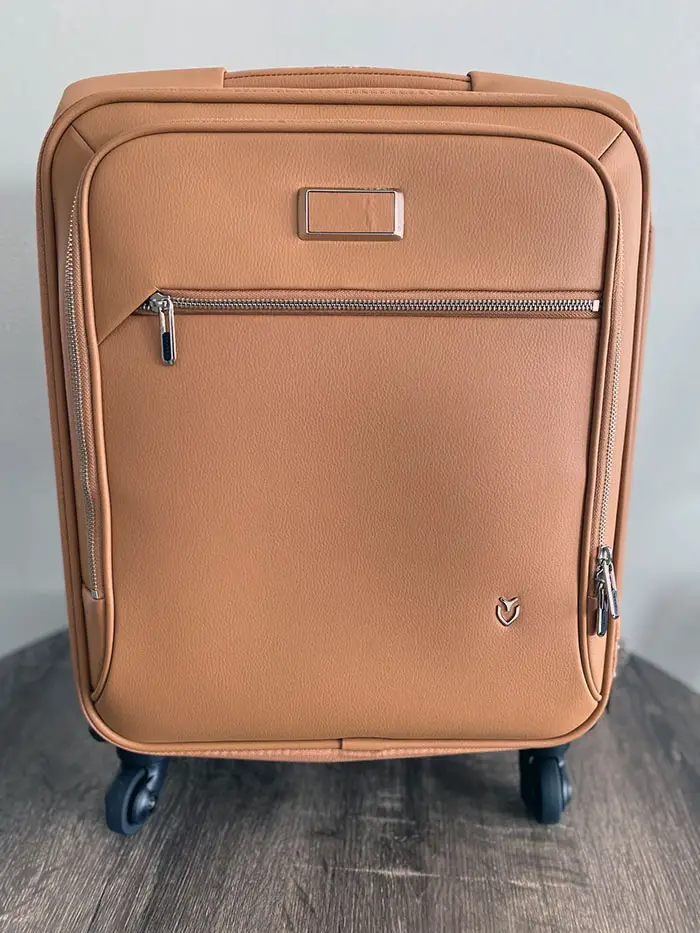 Excellent storage space
The Signature 2.0 luggage comes with an excellent amount of various storage pockets and compartments both inside and out.
Our favorite compartment is the padded laptop compartment accessible from the front of the suitcase. The front zipper compartment features a nice padded laptop holder as well as other compartments for various electronics like chargers, cell phones, tablets or more. Any standard-sized laptop should fit inside, we did not have any issues.
The zippers to the main compartment have an extra loop of metal that allows for the use of a luggage lock which we highly recommend getting.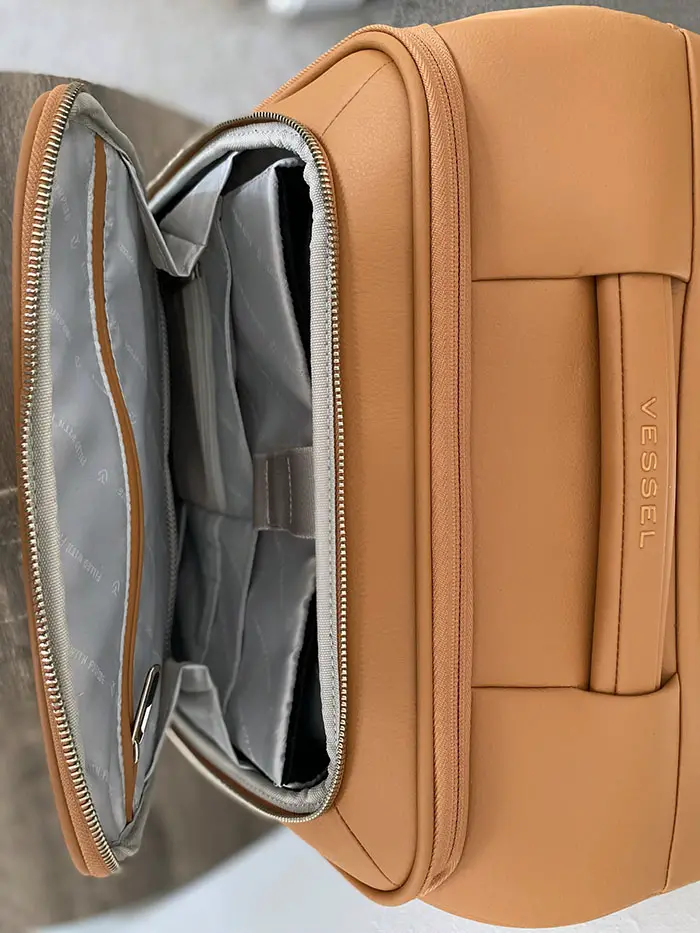 Inside the bag
Inside you'll find a nice message from Vessel that encompasses what their brand stands for. The fabric liner is thick and soft and is a nice pattern showcasing their mission statement: "Filled with Purpose"
The rest of the inside is pretty standard, just executed better than a typical carry on. You've got your dual straps the help compress your belongings for added storage and stability. You also have the mesh zipper area on the back of the cover where we like to put dirty clothes or delicates to separate from the bulk of the clothing inside. There's a convenient zipper compartment that's about 10″ by 5″ behind the mission statement that would be good for papers or small items you want to keep safe that aren't accessible from the outside of the bag.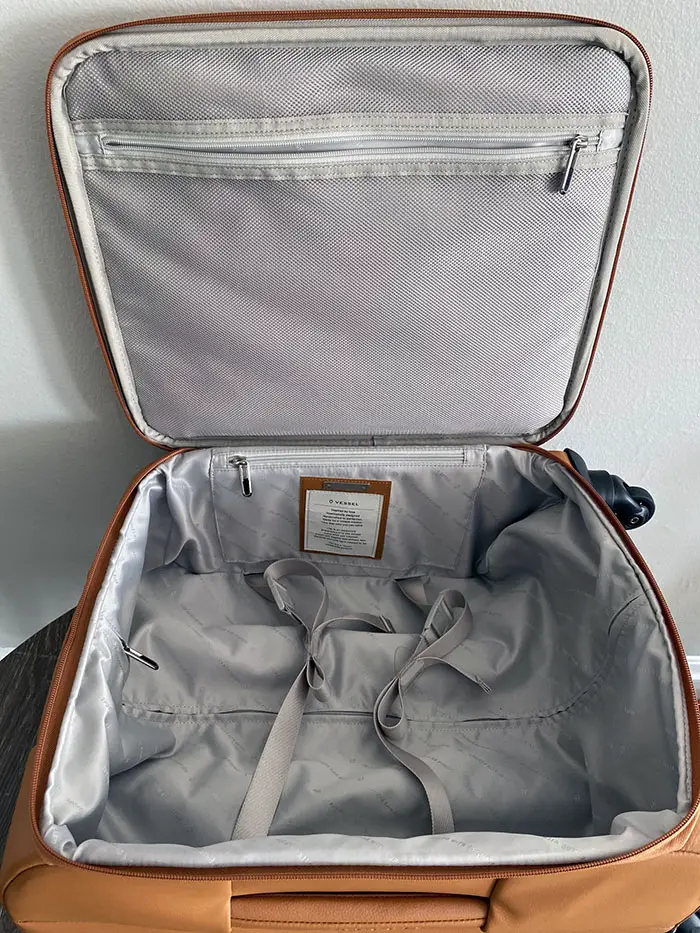 Giving back
We absolutely love Vessel's mission and purpose of giving back. For every bag that Vessel sells, they donate a backpack to a child in need. This is like the Tom's shoes approach that we really don't see in the luggage space and we are excited to see Vessel take the lead with their giving back program. We wish other luggage companies would do the same.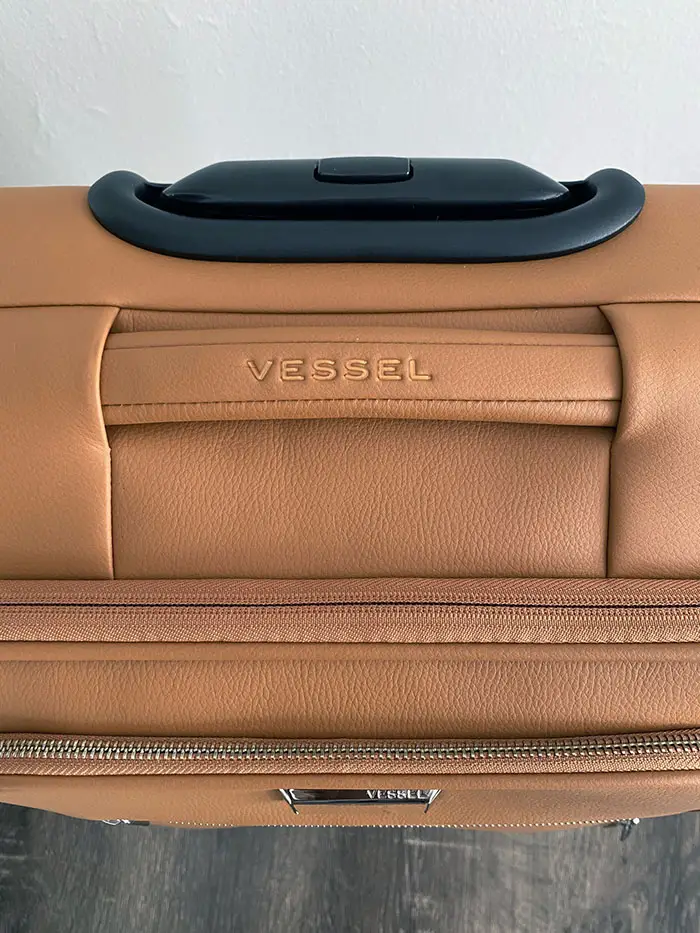 Overall
We can't say enough about the Vessel Signature 2.0 Luggage. This was an easy bag to review because we loved everything about it. Price-wise it's a great value for what we would call a luxury suitcase. You don't get much in terms of luxury for under $300, which is why we're really excited about the Signature 2.0. Let us know how you like it and if you went with a different color choice!