For the frequent traveler, top-caliber luggage is an absolute must. A great suitcase or two not only enables you to stay organized as you pack, but also to breeze through the airport as efficiently as possible.
Tumi is a well-known luggage brand that boasts both quality and thoughtful design. The sleek, modern style of Tumi's luggage makes it a top choice for minimalists and those who appreciate a clean line.
The Tumi Voyageur luggage line is a popular collection of women's products from this brand. The Voyageur line is mainly geared towards women travelers. Of all the Tumi lines, we've dubbed Voyageur as the best carry on for women in the Tumi luggage line. Although the Voyageur line includes many great purses and backpacks, we'll stick to the carry on luggage for this article. Below, we'll review a selection of pieces from this Tumi collection so that you can decide if one is right for you!
Tres Léger International Voyageur Carry-On for Women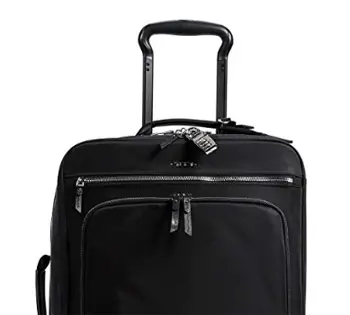 Dimensions:
21″ Height X 14″ Width X 8.5″ Depth
Capacity: 42 Liters
Weight: 7.7 lbs
Material: Nylon
Colors: Black
The Tres Léger International Voyageur Carry-On has all the same essential features as its Continental counterpart reviewed above. The main difference is its relative size and capacity. This makes the two both great options for traveling distances, however, if you prefer to have a slightly smaller and more manageable bag, the International Carry-On would be preferable for you.
The sleek and stylish design doesn't overshadow the brilliance in design and durability of this nylon carry-on. This bag can fit laptops up to 14", however, it is recommended to use it for laptops 12" by 10.75" and smaller.
Pros and Cons
Pros:
The Tres Léger International Voyageur Carry-On is more affordable than the Continental size
It is extremely durable and stylish
A built-in tracking system helps you become reunited with your baggage if it becomes lost
Cons:
If size is important to you, you might want to go with the Continental version
Tres Léger Voyageur Continental Carry-On for Women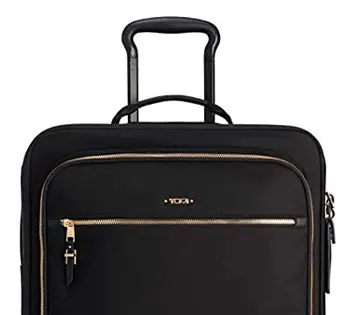 Dimensions:
22″ Height X 16″ Width X 9″ Depth
Capacity: 49 Liters
Weight: 8.16 lbs
Material: Nylon
Colors: Black
This innovative bag has a specially designed front lid that allows you to separate and access your items as you need during your flight or in your hotel afterward. This compact wheeled luggage offers unmatched convenience and protection for your laptop and anything else you might need for a short business trip.
The practicality of this bag in no way compromises its stylish looks. We love the Voyageur collection for offering versatility and style for traveling women.
Features of The Tres Léger Continental
This bag best fits laptops that are 12" by 10.75" with a 1" depth although it can fit laptops up to 14". It also offers a variety of other pockets with and without zippers. It also features the beloved section divider to keep your items from mixing together during movement and keeping things organized.
We also love that there are two different ways to access the main compartment for added accessibility.
Pros and Cons
Pros:
The stylish design is unmatched
This bag gives you more accessibility and versatility than you will ever need
The high-quality design will make this luggage last a lifetime
At 49 liters, this bag is a large size for a carry-on and will allow you more space than smaller carry-ons
Cons:
The Continental carry-on is the most expensive in the Voyageur line.
Tumi Voyageur Oslo – Osona 16″ Carry On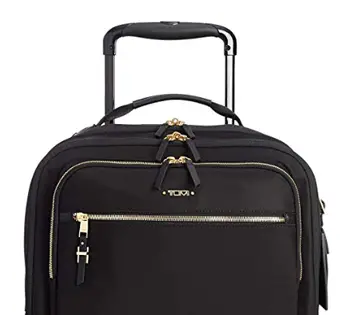 Dimensions: 15" Height x 14" Width x 8" Depth
Weight: 7.18 lbs
Material: Nylon
Features of the Voyageur Oslo Osona
This compact rolling suitcase is designed to make the most out of carry-on guidelines. The most popular style has a simple black exterior with gold or silver accented zipper closures, but you may also find this suitcase in navy, ocean blue, or ultramarine.
For a suitcase that you'll be using on a regular basis, compartments are everything. So, the Voyageur Oslo is divided into two compartments to make organization easy. The compartments feature nylon lining and zip pockets to further organize your belongings. This compact suitcase conveniently includes a front U-zip pocket with individual pockets for your tablet and iPhone. The bag also has a 14-inch laptop pocket with padding to keep your computer secure as you travel, in addition to pen loops and a file divider for business needs.
The Oslo has a four-wheel system to make commuting a snap. With both a top carry handle and a height-adjustable telescoping handle, you can choose to carry this bag or wheel it behind you. The telescoping handle is crafted from aircraft-grade aluminum, which is both lightweight and durable.
Pros and Cons
Pros:
The bag has numerous compartments with zipper closures to keep items organized.

A telescoping handle and top carry handle give you carrying options.

The four-wheel system simplifies airport travel.

The square design makes storing this bag as an airplane carry-on easy and convenient.
Cons:
The padding included in the compartments of this bag significantly add to its overall weight.

With the inclusion of the file compartment and front U-zip pocket, the available space in the main compartment for clothing, toiletries, etc. is minimized.
Oslo is the Best Mini Carry On for Women
We hope you found our Tumi Voyageur review helpful as you decide which carry on is right for you. In our opinion, the Voyageur is the best carry on for women when shopping for Tumi. The Tumi Voyageur luggage line features a collection of thoughtfully designed pieces for all types of travelers.
If you could also use some carry on packing tips, be sure to check out our famous packing tips and tricks article.
Whether you're headed out on a quick business trip or an extended international vacation, Tumi luggage can help you get there in an efficient and organized fashion.