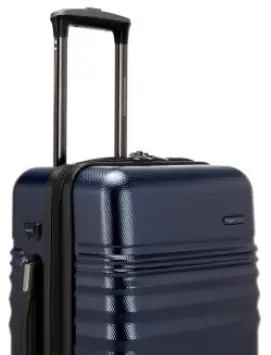 Traveler's Choice is one of our favorite luggage brands because they make excellent luggage at a great price. We've written previously about how Traveler's Choice is perfect for traveler's without much of a budget. This time, Traveler's Choice stepped their game up with the Pomona luggage set while still staying affordable.
Traveler's Choice debuted the Pomona suitcases in 2018 to the delight of people looking for dependable smart luggage. The reviews are in, and travelers choice Pomona luggage is a hit! The Pomona luggage typically comes in a set featuring a 21″ carry on and a 29″ suitcase

Pomona Carry On Suitcase (21″)
Size: 21.5″ tall x 14″ wide x 9″ deep
Weight: 6.6 lbs
Colors: Gray or Navy blue
Best Feature: Built-in charging capabilities (with a battery pack sold separately)

Pomona Expandable Large Suitcase (29″)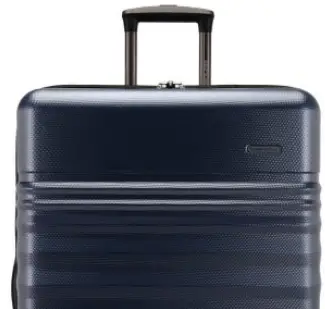 Size: 29.3″ tall x 20.5″ wide x 12″ deep (expands to 14″ deep)
Weight: 11.4 lbs
Colors: Gray or Navy blue
Both of these suitcases are available in a 2-piece set, and we're not sure if anyone is selling them individually. If you're only going to own two suitcases though, go with these two sizes, a carry on and a large suitcase. Medium sized suitcases (approx. 25″) are fine if you want to check a bag but don't need a huge suitcase.
The Pomona Smart Luggage Experience
Luggage as a whole hasn't really experienced much change overall, but smart luggage is catching on and the Pomona suitcases are riding that wave (the carry on at least). We have to say right off the bat that the battery pack is sold separately, so don't expect to unbox your luggge and have charging capabilities right away. The good news is that battery packs are sold everywhere. The power bank dimensions are 9″ x 4″ x 1″, so be sure to keep that in mind when looking at options.
The "iTravel" USB charging system basically means that you will have to buy a power pack (usually $15-$55+), then connect that to the plug on the inside of the carry on. Once that is connected you will be able to plug any USB charging cord/device into the plug on the outside of the suitcase. It's basically just a middle man, but you will find it to be slightly more convenient than just keeping a loose battery power pack.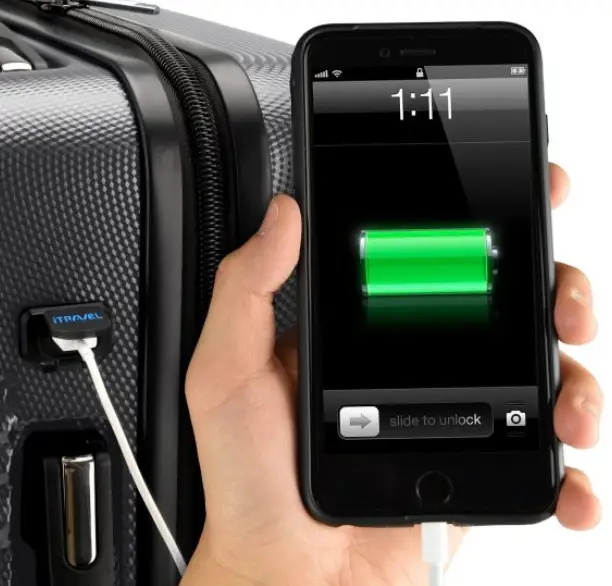 What Pomona Luggage Reviewers Have To Say
We love the Pomona set and we're not the only ones. The early word is that Traveler's Choice has a winner on its hands. Overall, travelers are thrilled after purchasing the set.
The looks of the suitcase are very refreshing. A lot of times with hard shell suitcases they just look like a boring rectangular plastic box, but the Pomona has much more texture to it than the average luggage. Airports are full of boring black luggage so it's nice that your options with the Pomona are gray or navy blue, forcing you to divert from the standard black selection. It's sort of a metallic feel to it but it's very subtle. We're very happy with the looks of the Pomona combo.
The wheels are exceptionally great on these bags because they are slightly larger than the standard spinner wheels offered by most other brands. Traveler's Choice uses a patented "360-degree Cyclone spherical double-wheel system" which rolls like a dream.
The handle on both bags telescopes to 3 different lengths which makes mobility much easier for people all sorts. The handle feels very sturdy and is easy to grip.
Traveler's Choice 5-year Warranty
If you do experience any issues within 5 years of purchasing the Pomona bags, you may be able to take advantage of the Traveler's Choice warranty program. You'll want to bookmark the warranty page on their website, which contains a form at the bottom for submitting any warranty inquiries.
Is Traveler's Choice a Good Luggage Brand?
Yes! Traveler's Choice is an excellent luggage brand and a great all around value. We've gone on the record saying Traveler's Choice is in fact one of the best luggage brands. Because of their lower than average price points, we've also dubbed them one of the 5 best cheap luggage brands, so you really can't go wrong with anything these guys make.
Traveler's Choice is an award-winning luggage brand that has consistently been improving their luggage. This is especially true with their ventures into the "smart" luggage category. Both the Pomona and the Silverwood II collections feature new twists on the classic suitcase – charging capabilities.
Nothing is worse than traveling somewhere new and experiencing a dead cellphone battery. As technology improves, Traveler's Choice has shown that it's ready to embrace change and drive the luggage category forward.
While some luggage brands only offer one, or worse, zero smart luggage options, Traveler's Choice blows them out of the water by offering multiple luggage lines featuring smart luggage capabilities. It would have been easy to just offer one style suitcase as the single smart option, but they wanted to offer traveler's many different styles, sizes, and colors in smart luggage.
You may not realize it, but Traveler's Choice also owns some luggage brands you may already be familiar with. Including their flagship name brand, Traveler's Choice also owns these luggage brands:
Traveler's Choice
Prokas
U.S. Traveler
Beverly Hills Country Club
Travel Select
Pacific Gear
The success of Traveler's Choice has allowed them to make these strategic acquisitions to further their own brand. These other sub-labels are all held to the same standards as the Traveler's Choice luggage that we know and love. We've been reviewing luggage for over 5 years. Within that time we've seen luggage style change just like fashion. It's great to see a brand like Traveler's Choice step their game up in the looks department despite being a lower price point brand.
Conclusion
The Pomona Luggage collection is a great value for one of the best looking sets we've seen in a while. Adding in the smart luggage feature make this one a no-brainer for people looking to grab some new luggage. There is definitely better luggage out there, but if you don't want to spend a ton, the Pomona set is the obvious choice.