When you're traveling, you want a smooth, comfortable, and enjoyable experience.
You could buy budget carry-on luggage that would last for two trips max, or you can carefully search out expertly crafted and durable bags that could last you a lifetime.
Tumi luggage has a reputation for creating quality products with quality materials that endure even the most unforgiving trips.
This comprehensive review will show you options between the V3 Tumi suitcases. No matter your taste in luggage, you're sure to find one that you love.
Tumi V3 Continental Expandable (Carry-On 22″)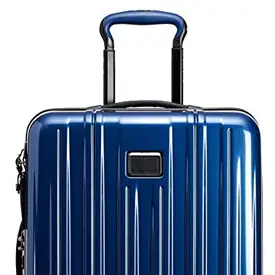 Dimensions: 26" x 18" x 10"
Weight: 9.2 lbs
Material: Polycarbonate
Overview
This carry-on suitcase is designed with efficiency in mind. As a piece of hardside luggage, it's made to be incredibly light and durable with multi-layer polycarbonate as the main construction material. Plus, the short and wide design is made to easily fit in the overhead compartment of an airplane.
To boost security, this suitcase has an integrated TSA lock, keeping your belongings safe. It also features Tumi's Omega Closure System to the main compartment, which includes inner zip pockets and tie-down straps to maximize storage space.
This Tumi suitcase has both a retractable top carry handle and a 3-stage telescoping handle for complete convenience. The four recessed dual wheels make traveling with your luggage as easy as possible.
Pros and Cons
Pros:
The fabric-lined main compartment offers plenty of storage space that's further increased with the tie-down straps.
The polycarbonate construction is both lightweight and durable, making the suitcase an ideal carry-on option.
The zipper closures are reliable and of the highest quality, so you can count on this bag throughout your longest trips.
Cons:
This suitcase doesn't include any exterior pockets, which would allow easy access to important items such as a passport, wallet, etc.
Tumi V3 International Expandable (Carry-On 22″)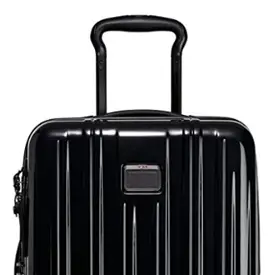 Dimensions: 22" x 14" x 9"
Weight: 7.1 lbs
Material: Polycarbonate
Overview
This suitcase is just about identical to the Continental Expandable Carry-On Luggage listed above, save for the dimensions. This bag measures 22" x 14" x 9", compared to 26" x 18" x 10" for the continental carry-on. This suitcase was designed with smaller dimensions for international travel, as international flights often have smaller luggage size requirements. Both make exceptional luxury carry on suitcases if it's within your budget.
Despite the smaller size, this suitcase includes the same durable, lightweight polycarbonate design, fabric-lined main compartment, integrated TSA lock, telescoping handle, top carry handle, etc. All of the main features are still there, just within a small size.
Pros and Cons
Pros:
This bag packs a large number of great features into a small, lightweight design.
With the smaller dimensions, you'll never have to worry about exceeding carry-on luggage specifications.
This suitcase will fit easily into any overhead bin on an airplane.
Cons:
The smaller design means that you'll have less space to pack clothing, devices, toiletries, etc.
Tumi V3 Extended-Trip Expandable Packing Case Review (Large)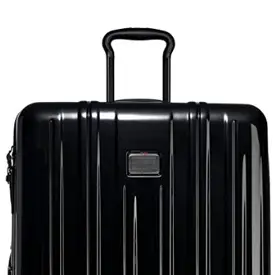 Dimensions: 31″ Height X 20″ Width X 11″ Depth (expandable to 13")
Capacity: 91 Liters
Weight: 11 lbs
Material: Polycarbonate
Colors: Black, deep blue, mink, sunset
The extended-trip Tumi V3 luggage is stylishly constructed with durable multi-layer polycarbonate alloy. Although 11lbs might sound hefty, for the sheer size of this bag it is remarkably light.
The 91 liters of space give any passenger the freedom of packing for extended trips of two weeks or more. Most travelers would find that they can pack for trips of any length with this extra-large bag. An alternate use for this bag is to share it between two people traveling together.
Notable Features of the Tumi V3 Extended Trip Luggage:
Effortless maneuverability with a 4-wheel system
Recessed wheels make storage easy since the wheels don't stick out dramatically
Lightweight polycarbonate
Expandable width gives a 19% increase in capacity
Patented zipper closure system designed to reduce possible damage
Combination lock for added security
Pros and Cons
Even great products have unique pros and cons depending on a user's preference. Below, we will outline some possible benefits and drawbacks for the Extended Trip V3 Luggage:
Pros:
More than enough space as-is. The added space from being expandable gives this bag more than enough room for very long trips
The wheels are recessed and super smooth
If you need an extra large bag, it is light when compared to others
The hard shell is easy to clean and highly protective
Cons:
If you are going on a shorter trip, this bag might seem unnecessarily large. You can find lighter bags from Tumi that are smaller and easier to manage while equally high-quality
Tumi bags can be much more expensive than other luggage that you can find, however, they make up for this with durability.
Short-Trip Expandable Packing Case (Medium)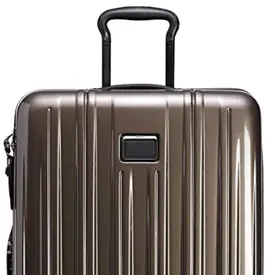 Dimensions: 26″ Height X 17.5″ Width X 10″ Depth (expandable to 12")
Capacity: 61 Liters
Weight: 9.18 lbs
Material: Polycarbonate
Colors: Black, deep blue, mink, sunset, white
The short-trip Tumi v3 luggage is perfect for short trips up to a week for a single traveler. It is sufficiently large with 61 liters of space without being cumbersome or too small. With this bag, you have access to expandable storage capacity. Although the bag is designed for  "short" trips, it has enough space to be more than sufficient for most trips for your typical traveler.
The sleek and light short-trip V3 luggage is durable enough to last any number of trips all over the world because it is constructed from strong multi-layer polycarbonate.
Notable Features of The Short Trip Expandable Packing Case
We love many features of this bag, our favorites are listed below:

Four pockets to organize your things
Tie-down straps to keep them secure
Hanger bracket
Integrated TSA lock
Carefully designed zipper system that reduces potential damage
Recessed wheels for easy storage
Durable telescoping handle
Let's talk a little more about the telescoping handle. At first glance, you might think: "what's so special about a telescoping handle? They are standard for all checked luggage."
That's true: almost every quality luggage today has a telescoping handle. The difference is that this one is made from aircraft-grade aluminum making it extremely durable and light. It is designed to take impacts without becoming damaged.
Tumi designs for durability and longevity. They know that the most vulnerable spots on a bag are the zipper and the telescoping handle. That's why they put extra-special care into these aspects of your bags.
Tumi V3 Compact Carry-on Luxury Wheeled Briefcase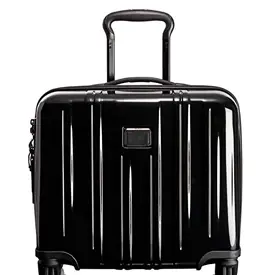 Dimensions: 16.25″ Height X 16.25″ Width X 8" Depth

Capacity: 24 Liters

Weight: 6.6 lbs

Material: Polycarbonate

Colors: Black, deep blue, mink, sunset

This compact carry-on bag is specially designed to protect and easily your laptop and still have room for enough clothing for a short weekend trip or to carry any other electronic accessories you need for a business trip.
The wheeled carry-on briefcase is ideal for business travelers and others who need a convenient way to travel with a laptop. The main compartment features a removable 15" padded laptop pocket, a removable file divider, an open pocket, two elasticized pockets, one U-zip pocket, and a pen loop–basically, it has everything you need to work and be productive on the go.
The multi-layer polycarbonate material is long-lasting and sturdy without weighing a ton. Especially when you already have a laptop to pack, your luggage should be as lightweight as possible; this briefcase fits the bill.
This compact briefcase has a 5-stage telescoping handle and 4 recessed dual wheels. The ability to wheel your briefcase will make getting through the airport faster and easier than before. However, this carry-on also has a retractable top-carry handle, giving you the option to carry it by hand when needed.
Interior Features
This bag features a 15" removable padded laptop pocket that is perfect for laptops up to 14.5" in width, 10.25" in height, and 1.75" in depth.
Other features include:
Removable file divider
2 elasticized pockets
U-zip pocket
pen loop
Media Pocket
Pros and Cons
Pros:
Designed to protect the typically weak points in luggage
Extremely durable and protective for electronics
Perfect for organizing and transporting documents, media, and electronics for business trips
An integrated TSA lock keeps your belongings safe and secure.
It is the most affordable V3 series bag
Cons:
Smaller than a typical carry on. Tumi offers a larger carry-on bag that you could also place your laptop into if you have your own protective laptop case.
This briefcase doesn't include any exterior pockets or compartments for quick access to essential items.
The small dimensions of this carry-on make it a great choice for short trips, but not for extended periods of travel.
Tumi V3, Perfect For Your Travel Needs No Matter What Size(s) You Go With
We know that you will be able to find the perfect Tumi luggage for your unique travel needs. Whether you are out for a day or a month, Tumi has a bag for you. The Tumi V3 is one of the best luxury carry ons available. Whether you need the protection of a hard case or the style of a nylon bag, Tumi has you covered!
Enjoy your Tumi bags and take care of them as directed and they can last you a lifetime.