Known for well-made and long-lasting luggage, Samsonite is a top brand for travelers. The Samsonite Winfield 2 Collection delivers on efficient design and modern look for bags that virtually anyone will enjoy. The collection includes three suitcase sizes, carry-on, medium, and large, to satisfy a range of needs.
We've pulled together customer reviews, features and specs on the Winfield 2 Collection to help you decide if this luggage is right for you. Read on for all of the information you need on the collection, from the handles down to the wheels.
QUICK NOTE: Samsonite has since upgraded to the Winfield 3 models you can see using the links below.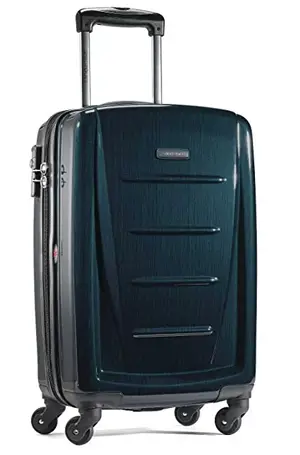 Specs
Carry-On
Dimensions: 20" x 13.5" x 9"
Weight: 6.7 pounds
Medium
Dimensions: 24" x 16.5" x 11"
Weight: 9.3 pounds
Large
Dimensions: 28" x 19" x 12"
Weight: 11.5 pounds
Overview
Our Samsonite Winfield luggage review includes the three spinner suitcases in varying sizes. The three different size options, (20-inch, 24-inch, and 28-inch) provide travelers with the flexibility to select a suitcase sized for their needs. For a short weekend trip, the 20-inch spinner could be just what you need. But, the 28-inch spinner provides ample storage space for extended or overseas adventures.
The luggage in the Winfield 2 Collection is constructed from durable polycarbonate. This sturdy material is built for impact absorption. So, it offers the flexibility needed to handle weight or stress and return to its proper shape; this luggage can even expand 1.5 inches for additional packing capacity. The polycarbonate features a brushed design that will disguise scrapes, scratches, and any other damage incurred through traveling. The brushed pattern also gives this luggage set an interesting yet understated look that's ideal for both business and personal use.
The fully-lined interior of the Winfield 2 luggage has a privacy curtain and zippered organizational pockets. This allows you to pack as efficiently as possible and bring along the items you need for any trip. The interior also features cross straps to compact, secure, and compress your belongings, creating even more room to pack. 
You'll be moving through the streets and the airport with agility using the 360-degree spinner wheels of this Samsonite collection. The wheels can rotate in any direction, keeping the bag upright no matter how sharply you turn or quickly you move. Additionally, you can simply push the bag along beside you while you're walking on flat surfaces, saving you the strain of pulling a heavy bag behind you at an angle.
The Samsonite Winfield 2 collection bags have an extra-wide pull handle with a convenient push button. This ergonomic handle is made from aluminum and has a multi-stage design so that all travelers can use it with ease. In addition, this luggage collection features retracting top and side carry-handles for times when the push-button handle isn't convenient to use.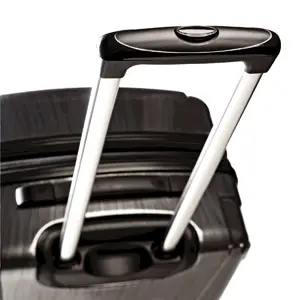 Keeping packed items safe is a significant concern for many travelers. That's why Samsonite has included a side-mounted, TSA-compatible combination lock in the design of these bags. The lock doesn't require keys to open and will ensure the security of your belongings throughout your journey.
The Winfield 2 collection luggage comes in this variety of attractive colors: charcoal, deep blue, orange, purple, and brushed anthracite. This assortment of colors provides something for every type of traveler, from the ambitious business man or woman to the avid vacationer.
Pros and Cons
Pros:
The polycarbonate material can flex and expand to fit your baggage needs. Plus, the flexible material is super durable and can withstand rough handling by airport employees.
The interior organizational pockets will help you efficiently pack a variety of items, from different types of clothing to toiletries to books and more.
The exterior of this luggage can be easily cleaned using an all-purpose cleaner or glass cleaner. This makes it simple to keep your bags in top condition.
The push-button handle locks securely into place to make pulling or pushing one of these Samsonite bags around the airport a breeze.
The 360-degree spinner wheels can withstand the stress of heavy luggage so you can pack whatever you need without having to worry about the bag becoming damaged.
Cons:
The bags in this Samsonite collection don't have exterior pockets or compartments. Exterior pockets are a convenient place to store items that you need to keep within reach, such as your wallet, passport, or phone.
The carry-on suitcase has only a top carry-handle, not an additional side carry-handle as the two larger sizes do. This may make it difficult to carry the bag up or down stairs by hand.
The polycarbonate material can become easily scratched as you travel.
The Winfield 2 collection bags don't feature built-in luggage tags, which are a simple way for others to identify you as the owner of the bag if it gets misplaced. While you may always attach your own luggage tag, it's quite convenient to have one built in.
Samsonite Winfield 2 Customer Reviews
Users note that the TSA-approved side-mounted lock is made of plastic. This undermines its durability, but customer reviews also state that the lock is a convenient, functional feature.
According to owner reviews, the Winfield 2 collection provides excellent value for money. When you consider the durability, advanced features, and high-quality materials of these pieces of luggage, the price is exceptional. Plus, this luggage collection is known to stay in top condition for a long time, generally only beginning to show wear and tear only after years of intensive use.
A handful of users experienced malfunctions with the zipper. When the zipper doesn't work, the bag won't close and the luggage must be repaired before it can be used at all.
Customers who reviewed love that these Samsonite bags have the sleek look of expensive luggage without the luxury brand price tag.
Conclusion
The Samsonite Winfield 2 collection luggage combines durability, ergonomic design, and a sharp exterior for suitcases that you'll love to use. Granting you the flexibility to pack a large number of belongings, as well as interior pockets to organize them, you'll find that these top-caliber bags fulfill your needs without busting your budget. Whether you travel frequently, occasionally, or somewhere in between, you'll find that these Samsonite suitcases are a smart luggage choice.