Victorinox makes one of the best carry on luggage pieces that we have had the pleasure of reviewing. If you're not familiar with Victorinox, you have probably heard of the Swiss Army Knife, their most well-known product. Victorinox has created the Avolve Carry on Luggage – a 22", expandable, wheeled carry on bag. This piece is made from a very durable polyester fabric, making it more durable than typical bags in the same category. Weighing in at a very reasonable 6.1 pounds, this is a very light yet sturdy bag.
Check out our other reviews if you're specifically looking for lightweight carry on luggage which will give you more options that will fit your criteria. The first Victorinox Avolve was one of their most popular bags, and we've learned that the 3.0 version is even better. The line of Victorinox carry on luggage can be closely compared with the line of Tumi carry on bags. Both brands we highly recommend, so do your research and check them both out before making a purchasing decision.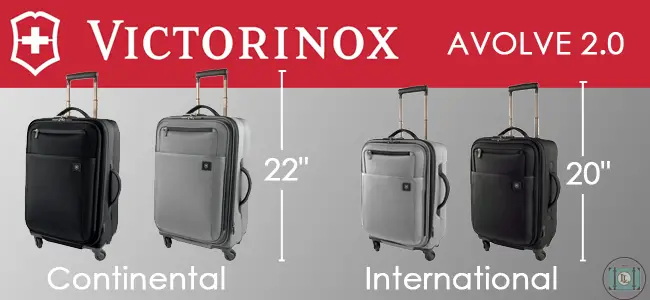 What to know about the 10-Year Global Warranty
This bag, as well as most Victorinox luggage, comes with a 10-year global warranty. According to the Victorinox warranty page which can be found on each luggage product page on their website. This warranty does not cover cosmetic damage, wear and tear, damage resulting from abuse, misuse, unauthorized repair or improper handling, common carrier damage, loss of use, loss of time or damage to the contents of your bag.
This definitely isn't an "all inclusive" warranty – so be warned! Basically if there's something wrong with it when you get it, you can send it back – but anything that happens when you're using it, is your own problem.
Victorinox Avolve Customer Reviews
We sifted through mounds of actual customer reviews and have compiled what they had to say. First off – there is a bit of a warning for international flyers, you may want to go with the 20" model to guarantee that it will fit in the overhead compartment. If sizing may be an issue for you, and you would rather be safe than sorry, we suggest the same model in the international version – which is 2 inches shorter. Customers have said wonderful things about the 4-wheeled base that glides effortlessly on all kinds of surfaces.
You'll find a checklist of what one user was able to fit inside the smaller, 20" version of the carry on. The graphite color looks even better in person, so if you're looking for something a little different than the standard black, give the graphite a try. Many reviewers gave this as a gift that was very well received.
Many users looked at Tumi bags, but ultimately went with this one, and even went as far as to say that they would eventually purchase Victorinox bags in other sizes as well. Feel free to read these reviews in detail if you'd like.
TSA Lock – Similar to the Tumi carry on luggage sets, this set comes with a TSA approved lock that only you and the TSA will be able to open.
Available Colors – Black or Graphite
Available Sizes – 22" tall continental or 20" tall international
What all can fit in this bag?
1 Suit
1 Pair of dress shoes
1 Pair of flip flops
3 Dress shirts
2 Ties
4 T-shirts
2 Polo shirts
2 Pairs of pants
5 Pairs of boxer briefs
3 Pairs of socks
3 Pairs of dress socks
2 Pairs of gym shorts