If you're looking for a good three-piece luggage set (available in almost every color in the rainbow), Rockland has you covered. This set comes highly rated by travelers who have used it, averaging a 4 star review on Amazon with over 200 reviews and counting. However, this is not the best luggage set that money can buy, but for the amount you will pay, is a great choice.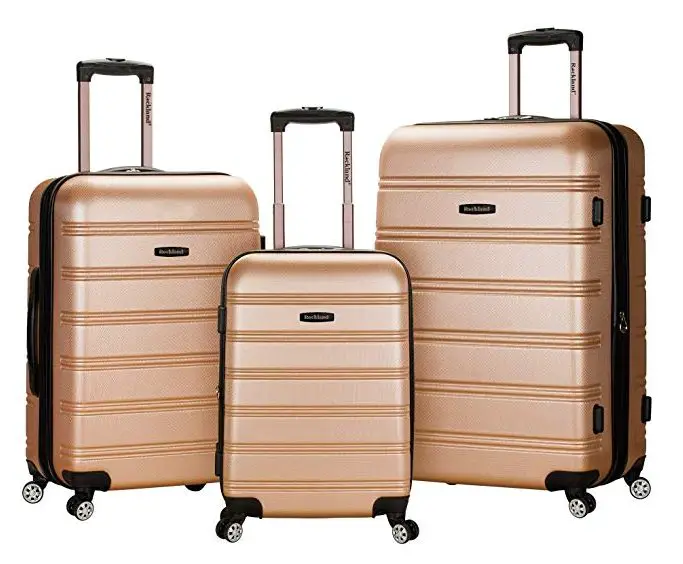 One thing that stands out for this set compared to others is the color selection. If you've ever had a tough time picking out your luggage among the sea of standard black suitcases on a conveyor belt, you can pick a more unique color like orange or purple. The inner lining has a polka dot pattern no matter which outer color you choose, so obviously check out all of the pictures to get a better idea of the luggage features. Some advertisers claim this set has built-in TSA locks; however, they do not.
If you're looking for a true 'hard shell' luggage set, this is not it. The ABS plastic material is very thin, which does help make it light weight, but also allows for a little bit of give. The whole set could be prone to cracks if used in very cold temperatures, so that's something to keep in mind.
Users have reported that when the telescoping handle is extended all the way, they feel like it is a bit thin and does not feel very strong. This can be remedied by standing the suitcase upright and rolling it on all four spinner wheels. As with any hard-shell suitcase, it is prone to scuffing the more you travel.
Anyone truly worried about the outer shell getting a little scuffed should look into a soft shell. When you receive this luggage in the mail, make sure to let it air out before using it because, as with any plastic luggage, the bag can tend to have a plastic smell. You shouldn't have any issues if you leave the luggage out and opened up for one night or longer.
If you do find dark scuffs on your luggage after a flight, cleaning solution may be able to take the marks off depending how bad they are. Yes, you can pay more money for a better quality luggage set that will last longer, but it would be really tough to beat the overall value of the Rockland Melbourne 3 piece luggage set for the price.