Your grandfather had a briefcase, and you almost did too. Thankfully, somebody came around and invented the messenger bag – which is easier to carry, and a more versatile alternative. Leather messenger bags are a great way for guys to carry laptops, documents, tablets, or anything else really – and they look so much better than most back packs or briefcases.
[wpsm_titlebox title="Table of Contents" style="1″][contents h2][/wpsm_titlebox]
Leather messenger bags are the logical progression for guys who usually just throw everything into their old college/high school backpack, and want to upgrade to something a little more stylish. Upgrading to a proper men's leather messenger bag is an awesome compliment for any guy-on-the-go. These bags can come in a variety of material, with leather being the most popular. So we decided to try and find the best messenger bag for men, made from leather.
Anyone doing their homework on these leather shoulder bags for men will soon realize that many fellow customers with a moderate budget are trying to choose between two great bags, one by Samsonite and the other by Kenneth Cole. These are the first two bags that we reviewed however we were able to find a few others that are also great picks.
The Top 5 Men's Leather Messenger Bags
| Messenger Bag | Rating |
| --- | --- |
| [1] Samsonite Colombian | 4.6/5 |
| [2] Kenneth Cole Reaction Full Grain Leather | 4.7/5 |
| [3] Visconti Vintage-7 | 4.3/5 |
| [4] Kattee Men's Leather Shoulder Briefcase | 4.5/5 |
| [5] Passion Leather Handmade Messenger Bag | 4.7/5 |
[1] Samsonite Colombian Leather Flap-over Case
Specs:
16.5″ x 12″ x 4.5″ | 4.4 lbs
Fits laptops up to 15.6″
This Samsonite genuine leather messenger bag is at the top of our list for a number of reasons. First and foremost it is one of the highest rated bags that we've reviewed. Secondly, Samsonite is a brand you can trust. We have chosen Samsonite as the best luggage brand in our featured top 10 luggage brands article.
Currently there are over 2,500+ customer reviews for this bag with an average of about 4.6/5 – which proves that this is a very well-liked bag. Compared to the Kenneth Cole Reaction, this bag's leather seems to be a bit softer. Don't let the picture fool you, the bag is not too shiny in person, and happens to have a nice slightly-worn look to it, making it a great casual messenger bag.
This is a very spacious bag, one user reported fitting 2 laptops (fits up to 15.6"), 2 chargers, a power bank, a mouse, and 2 notebooks in his. Reports are that this bag is quite durable as well. Scratches can happen but overall the material does a great job of not scratching/deteriorating easily.
If you need a leather messenger bag to hold more than what was mentioned above, you may need something larger like a rolling carry-on or a backpack. If a lot of space isn't a huge deal, you may want to go with the Kenneth Cole Reaction Show Business messenger bag.
[2] Kenneth Cole Reaction Full Grain Leather Messenger Bag
Specs:
16″ x 12.5″ x 4″ | 3.6 lbs.
20″ shoulder drop
This Kenneth Cole full grain leather messenger bag is very similar to the Samsonite Columbian, with a few bonuses. They are both genuine full grain leather, however this one comes in 3 colors (brown, black, tan) while the Samsonite is only available in the standard brown. This Kenneth Cole is also pretty roomy with pockets for a 15.4" laptop and many other small items.
The reviews are amazing for this bag as well and many people agree that this bag looks a lot more expensive than it really is (typically a little more than the Samsonite). This is, however, a little smaller than the Samsonite, so you may need to opt for something else if you need more room.
Kenneth Cole is a very well-known brand in many categories, luggage included. Kenneth Cole luggage is famous for being sturdy and efficient, despite not costing as much as their competitors. You're getting a designer name for an affordable price.
Overall this bag and the Samsonite are very similar, it may just come down to looks for some people, so check out all the pictures over at Amazon and see which one you like better, either way you really can't go wrong. When it comes down to it, both are great picks for the best leather messenger bag for men.
[3] Visconti Vintage-7 Veg Shoulder Bag
Specs:
14.1″ x 3.9″ x 11.8″ | 4.5 lbs.
Fits laptops up to 13″
Now that the two most popular bags have done battle, let's take a look at some other really great alternatives. Visconti has definitely made one of the best shoulder bags for men with this piece. First knock on this bag is that it not great for computers.
If you are looking for a good leather laptop bag for men, keep looking – this one is a little smaller than typical messenger bags. On the other hand, if you are looking to transport a tablet and a few other items, this is a solid pick. For what it's worth some users were able to store small laptops in this bag including a 13" ASUS Zenbook.
The leather strap is made from a few strips pieced together end-to-end, if this is a problem for you, (like it was for one user) this may not be your next bag. Users enjoy the durability, rugged/distinguished appearance, and oddly enough the "wonderful leather smell." The adjustable shoulder strap when fully extended fits taller guys (6' plus) very nicely.
[4] Kattee Men's Leather Shoulder Briefcase
Specs:
15.5″ x 3.3″ x 10.3″ | 3.3 lbs.
Fits laptops up to 14″
Indiana Jones wore the best leather messenger bag for men, but you can get that worn leather look and carry something a little more practical to boot. Kattee makes a tremendous alternative to Dr. Jones' bag with a lot more room to spare. All the bags mentioned above have a very clean and professional look using sleek leather.
Kattee provides an alternative for those guys looking for more of a distressed leather messenger bag. This bag is perfect for smaller laptops and tablets, however if you would prefer the same style but larger, Kattee also makes a larger version that will fit most laptops. This bag is quite durable, and as one owner pointed out "scratches and dings just lend it more character" – well I guess that's one way to look at it. To maintain the leather you may want to invest in a good leather conditioning oil.
For the price, this really is an outstanding bag in terms of quality and value.
[5] Passion Leather Handmade Messenger Bag
Specs:
18″ x 13″ x 6″ | 3.9 lbs.
Fits laptops up to 18″
"Whoa, handmade? That probably costs a fortune!" – Not true! This bag by Passion Leather is actually priced pretty reasonably. Another great candidate for the best leather satchel for men, you can't go wrong with this one. If you plan on carrying a laptop, this is your best bet. Users have reported being able to comfortably carry a 17" laptop along with several other accessories.
The storage capacity of this bag makes it one of the best laptop messenger bags for men. Because of the size of this bag, it is one of the few messenger bags that is able to easily stand up on its own. Unlike the Kattee, this is made from 3-4 oz goat skin leather, making it a little softer.
Passion Leather is not a very large company compared to others in the industry. They do however make an amazing line of some of the best leather messenger bags for men available, our favorite being this one. The entire line of bags made by Passion Leather is very highly reviewed on Amazon and comes highly recommended by us.
Bonus: FRYE Men's Logan Messenger Bag
The 5 messenger bags above are all moderately priced and won't break the bank. If you're someone looking luxurious with a well-worn look (and have a big budget) take a look at the FRYE Logan messenger bag. Everything is hand made and hand stitched giving the bag an incredible look and feel.
Buyers have tried cheaper bags but just couldn't seem to find that perfect bag with the quality and style to match, until now. FRYE is the way to go if money is no object- you won't be disappointed.
Are messenger bags for guys?
Messenger bags seem to be marketed more to men than women, but we've seen plenty of women utilizing the versatility of a nice and gender-neutral leather messenger bag.
In our research we discovered that more men are searching for leather messenger bags, which is what prompted out thorough review and post.
Generally speaking we find that more women are looking for laptop backpacks as their professional tote of choice. Seeing the data laid out this way helped us to write helpful content for those buyers looking for shopping recommendations.
What conditioning oil should I use on leather messenger bags?
We suggest using Leather Honey conditioner on these types of bags to maintain moisture and avoid cracking. Some people suggest using canola or other kitchen oil, but using too much of that can ruin your bag and it will smell rancid. That's an expensive mistake, so we'd recommend getting a proper oil to protect your bag the right way.
Leather messenger bags need to be worn in so they aren't so stiff- kind of like a brand new baseball mitt. It's important to care for your bag properly to make sure it lasts as long as possible. The best way to ensure a long life for your bag is to properly apply a leather conditioning oil.
Some people even suggest giving your leather messenger bag a massage. Real grain leather will arrive cold and stiff, and giving it a massage can help loosen it up. The more accepted way is to just let this happen naturally through everyday wear and tear which we prefer.
Other options
We love the messenger bag look, however, we still can appreciate certain briefcases and any guys trying to pull off the classic business man look. Make sure to check out our other page to see the best leather briefcases for men.
Another popular leather tote for men is the duffle bag- we've written a helpful article showcasing the best leather duffle bag for men where you can learn more about our top picks in that category.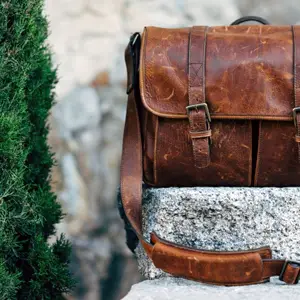 Conclusion
Shopping for the best leather messenger bags for men can yield many results. We narrowed the search down to 5 can't-miss selections. We highly recommend each of the bags discussed above. You really can't go wrong with any of them, it really comes down to 2 things: Style and space. Be sure to get a bag that meets your expectations for both.
The most important would be space – does the bag hold everything that you need it to? Laptops? Accessories? Once you have the right size, it's mainly just appearance from that point on. We hope that our analysis of the 5 best leather messenger bags for men has helped you make a smarter purchasing decision.