One of the most exciting times in a student's life is getting the opportunity to study abroad. There's enough to worry about when it comes to leaving the country for an extended period, and you shouldn't have to stress about all the little things like what luggage to buy. We've created a helpful guide to show you the best luggage for study abroad students. Yes it's a good idea to have a large checked bag as well, but our guide is strictly for finding the best carry on suitcase for study abroad students.
*Luggage is considered "international-sized" when it is 21" or less*
Our Top 3 Carry On Picks for Study Abroad
What to look for in an international bag
There is definitely a difference in luggage meant for international travel as opposed to luggage strictly for traveling within the country. International airlines tend to have stricter rules and regulations when it comes to carry on bag restrictions. We have an article showing the 3 best carry ons for international travel, however those may be considered too expensive for a student trying to save money, so scroll down to see more detail on our top picks for students traveling abroad.
Carry on suitcases typically range from 20" to 22" tall. This may seem like a negligible difference, however it can make a huge difference. Sometimes at the airport gate, an airline may randomly ask for everyone to bring their carry on up to place in the size checker. If you have a 22" carry on, it obviously will not fit if the minimum is set to 20" or 21". You can plead your case all you want, but odds are that the airline will force you to check your bag at the gate, and will charge you for it. This surprise cost can be $50 or more, which is tough on anyone, especially a student studying abroad. To avoid any of these types of surprises, it's best to go with an international carry on suitcase that is 20" tall. You may be able to get away with a 21" tall suitcase, but a 20" bag will be acceptable to most all international and domestic airlines. For specific requirements, take a look at our carry on luggage size chart.
Below are our 3 favorites. Since students usually don't have a lot of excess money to spend on a suitcase, the top 2 bags below tend to fluctuate around the $100 price point, while the 3rd is our budget option which is around $50.
Samsonite Omni 20" International Carry On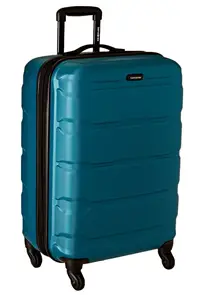 > Check availability and current price
We've written extensively about how much we love the Samsonite Omni luggage line, so this shouldn't come as a surprise to any of our readers. Students especially will love this bag because of its very reasonable price, durability, and great color selection.
Some folks won't think it's a big deal when choosing a luggage color, and like to go with black most times. Any frequent traveler will tell you that having a bag that looks different than all the others is helpful when picking your bag out at the baggage carousel. The Omni international bag is offered in around 10 different colors at any given time period, making it a great 'unique' bag if you decide to go with a more obscure color.
Students traveling abroad will also enjoy how easy this is to clean since it's a hard-sided bag. The debate of hard vs soft luggage will forever rage on, but students might appreciate the durability and ease of cleaning that a hard shell will offer them.
Travelpro 20" Maxlite 4 International Carry On
> Check availability and current price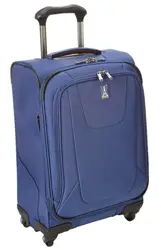 Another suitcase line that we absolutely love is the Maxlite line from Travelpro. Maxlite is the flagship line that Travelpro offers and it's easy to see why. Owners of this bag are obsessed with how light and durable this suitcase is. Normally, you end up sacrificing some durability with a soft-sided suitcase, but the material used in the Maxlite line is super strong, traveler-tested  and will last you a very long time.
Added benefits with this Travelpro bag include an expandable zipper area. If your airline permits, or if you're just trying to pack as much as you possibly can into this one, the expandable zipper can be a lifesaver. Unzipping the expandable section will create an additional 2" depth of storage space.
The color options are not nearly as wide as the Omni, and the Maxlite is also priced a tad higher, but the reviews are in and travelers swear by this bag. You'll find added detail everywhere, which for a bag less than $150, is quite a rare feat.
Rockland Melbourne 20" International Carry On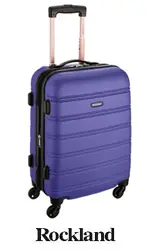 > Check availability and current price
In all honesty, this one is our budget-conscious recommendation, so take this one with a grain of salt. If you absolutely need to spend as little as possible on your new luggage, you can't go wrong with Rockland's Melbourne 20" international bag. The Melbourne has been around for a long time, and still maintains an Amazon user review of over 4 out of 5 stars, which is kind of amazing for a bag around $50.
Students will love that this line comes in over 20 different color options – the most we've ever seen for a bag of any price! The hard-shell will provide good protection, which is necessary when buying a cheap carry on. Students will also love the fact that although this is a hard-sided suitcase, it still features an zippable, expansion area. If you don't have a ton of cash to spend, the price of the Melbourne international cannot be beat.
---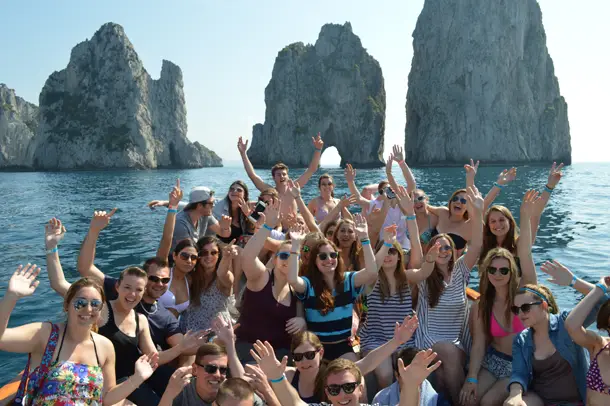 One of the greatest trips of your life awaits! We hope that our best luggage for traveling abroad guide helps get you one step closer to an unforgettable experience.
Getting an international sized carry on is the first step, but it's also just as important to know how to pack. We've written an exceptional guide on how to save space when packing carry on luggage – this will help you optimize your packing.
You can definitely spend $200+ on an international travel carry on, but you really don't have to. There are tons of great carry ons out there for less than $150, make sure you read user-reviews and pay attention to what actual owners have to say about their purchase. Just remember to stick with a bag that's less than 22" tall, and you should be fine. Now it's time to travel, learn, and grow – enjoy!