The Samsonite Omni Luggage line is a popular choice for travelers. If you are looking for durable luggage, we recommend going with this set since it's a great investment because it was designed to withstand even the harshest travel conditions.
The lightweight case of the luggage set is made from 100% polycarbonate and has a micro-diamond texture finish, which ensures that the luggage is kept looking brand-new and clean even after a trip. All bags in the Samsonite Omni Luggage line are equipped with lightweight spinner wheels that can spin 360 degrees, which makes getting around a breeze. The set comes in different sizes to suit the needs of even the most discerning traveler.
The pieces comes in a carry-on 20″, mid-size 24″, and a more spacious 28″ which is ideal for long trips. You'll be glad to know that the pieces can be purchased in sets of 2 or 3 as shown above. Travelers love each of the bags for their own reasons, which we've written about in the reviews below. If you need extra space, no problem: each piece is designed with expandable pockets for added capacity. The bags also feature a side-mounted TSA lock for more security.
The Samsonite Omni series come in attractive, great-looking colors that make them a breeze to locate when you're at the airport carousels. Overall, owners love this luggage line although many think that it would have been much better if it was equipped with a side handle which would have made it easier to carry around.
Samsonite Omni PC Hardside Spinner 20″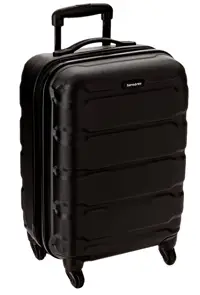 The Samsonite Omni PC Hardside Spinner 20″ is the ideal carry-on luggage or traveling companion for short trips. While compact, its expandable features let you pack more when you need to. Standing at 9.8″ high and 14.5″ wide, the Samsonite Omni 20" is lightweight enough to be a good choice for kids.
Owners appreciate its expandable feature and are surprised by how much a seemingly compact carry-on can store. The luggage wheels make it easy to switch around from pulling to pushing and vice versa, an ultra-convenient functionality that caters to all kinds of travelers.
The 20″ luggage is also equipped with TSA locks for an added layer of security and will also help ensure that your luggage gets to its destination safely in the USA but if you are traveling out of the country, airport security won't have the tools needed to open the specially-made lock unless they are aware of the default combination.
Samsonite Omni PC Hardside Spinner 24″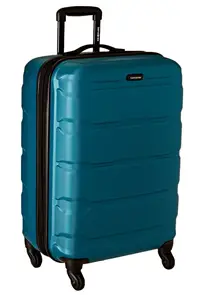 The Samsonite Omni PC Hardside Spinner 24″ is lightweight and durable, and can accommodate your travel needs for short trips as well as long-haul travel. It measures 24 x 17.5 x 11.5 inches and we think that these can accommodate enough items for long trips comfortably. The hard casing makes it long-lasting, even when you're taking trips to other side of the world. Owners love how the Samsonite Omni series is easy to spot at the baggage carousel although some think that after several trips the luggage may already reflect wear and tear in the exterior.
According to airline specialists, these bags should always be packed to the fullest. Otherwise if it's too light and empty, and ends up under other heavy luggage this can cause the shell to crack. Apart from that, the Samsonite Omni PC shells are durable and are more competitively priced compared to other similar luggage. Owners also appreciate the fact that these bags have a built-in feature of superior-quality zippers, which may seem like a minor detail but are actually very important for those who want take advantage of the expandable space.
Samsonite Omni PC Hardside Spinner 28″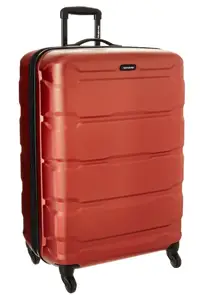 The Samsonite Omni PC Hardside Spinner 28″ weighs 14.4 pounds and measures 28.5 x 20.5 x 13.5 inches, offering travelers serious capacity for longer trips as well as expandable space whenever needed. Since it's a heavy-duty piece of luggage, this doesn't leave you with much room to pack items that aren't light, or you may run the risk of being overweight.
However if weight isn't an issue, the luggage is extremely spacious and hard to beat considering its capacity and price point. Another advantage of the luggage is that since the texture of its exterior is more matte than shiny, scratches aren't easily visible, which allows you to have a newer-looking suitcase for a longer period of time, provided that it isn't abused.
While it's a great piece of luggage and can pack several weeks' worth of clothing, it can be quite challenging to travel with it. The suitcase is popular with owners although many lament that the lack of a side strap makes it difficult to carry the bag around.
Considering how large it is and how heavy it can get if packed to full capacity, lack of a side strap to carry it around can be quite difficult. Despite that, the 28″ remains to be a popular choice with thousands of discerning travelers and we think that these are excellent purchases for travelers.
Considering the durability and price range of the Samsonite Omni PC Luggage line, travelers can't go wrong with any size luggage from this line. Whether you travel frequently for business or are a serial vacationist, owner feedback on the line shows that it's the ideal versatile choice for travelers of all backgrounds.