Traveling can be a stressful experience if you've ever found yourself with a low or dead phone battery. We use our phones for so much during travel, and can become anxious at the thought of not being able to text somebody our location, call an Uber, locate something on Google maps, find places to eat, and much more. Somebody realized that many travelers with these problems also have their carry-on within arms reach, thus creating "smart luggage".
What is Smart Luggage?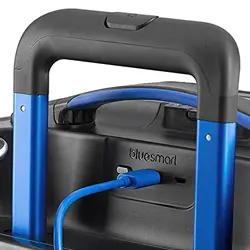 Smart luggage, as of now, refers to suitcases that come equipped with a battery that allows for charging devices using a USB connection. With the way technology moves, smart luggage could refer to way more sophisticated technology, but for now we're just referring to charging capabilities. We've got our fingers crossed that luggage innovators will keep on working hard on making the lives of travelers even easier.
What is the best smart luggage and where's the best place to purchase?
You can find the best selection of bags with and without built in chargers all over the Internet, and not just on Amazon. Since smart luggage is a developing niche, many manufacturers are selling directly from their own channel/website, at least for now. Some smart luggage, like the G-RO got their start on Kickstarter.
Smart Features: USB Charging, location tracking built-in, digital locking, Bluetooth/phone app connectivity
1. Bluesmart
Bluesmart luggage calls themself "the first smart luggage brand" and are blazing the trail of what smart luggage should be. They offer several items in their line of luggage including carry on and checked luggage, a laptop bag, and a passport pouch, which can be purchased separately or bundled.
2. ECBC
Smart Features: Removable battery pack USB charger, unzippable TSA laptop pocket.
We were lucky enough to review an ECBC suitcase back in 2015, they were one of the original brands to develop luggage with USB charging capabilities included. Some brands allowed for aftermarket batteries to be packed in, but ECBC created their own battery that fit inside a pocket of the suitcase itself. Technology aside, ECBC makes super high-quality luggage that would definitely stand on its own even without the tech.
3. Away Luggage
Smart Features: Removable battery pack USB charger
Another great brand offering chargable carry ons and other size luggage is Away. Away is great because they fit the mold of a luxury style brand, while keeping their prices reasonable when compared to other luxury brands like Tumi or Briggs & Riley. Away offers a built in, removable battery power pack that is TSA compliant, which is critical so seamless travel.
4. G-RO
Smart Features: Blutooth luggage locator, Dual USB charging (sold separately)
Looking like it came straight out of the movie Blade Runner, the G-RO carry on suitcase is the coolest looking smart luggage we've seen yet. What stands out immediately are the giant yet sleek "GravityRoll" wheels which are also guaranteed for life. The price is a bit steep, but this is definitely the top of the line when it comes to smart luggage.
Separately, you are able to purchase a battery pack/charger with not one but TWO USB chargers, allowing you to charge multiple devices at once. We're not fans of the "sold separately" features, but overall this is still a great bag, and does come equipped with the bluetooth tracking device.
5. Samsonite Spinner Underseater
Smart Features: Charging pack (sold separately)
Samsonite is arguably the undisputed leader in luggage, and they are dipping their toes into the world of smart luggage. Again, we're not super happy about the battery pack being sold separately, but the plug ports are easily accessible at the top of the bag, and super easy to get to when using the bag as an underseater on an airplane.
This is a Samsonite line that fortunately comes in several different colors outside of the normal black or blue. On the front of the bag, you'll find an easily accessible technology pocket that lets you safely carry a laptop, tablet, cellphone, and any other misc charger or smaller items.
Despite the battery being sold separately, this is a very well-reviewed Samsonite bag that is a great choice for any traveler.
____
It's hard to tell where smart luggage technology will take us. As luggage further adapts to our needs as travelers, our lives get easier. We are currently in the infancy stages of the smart luggage revolution, and as new features and brands debut, we'll be sure to include them on our list. It's so refreshing to finally see new features in the luggage world, which used to be a very boring product category in terms of improving technology.