We discuss a lot of traditional wheeled luggage on this site, but sometimes all you really need is a quality, weekend duffle bag. One of our favorite items we've reviewed is the Duffle and Boston bags made by Vessel.
BOSTON VESSEL GOLD
Dimensions: 13.5" x 20.5" x 10" (large)
DUFFLE VESSEL GOLD
Dimensions: 12" x 20.5" x 8.5" (large)
NEW MODEL UPDATE:
Signature 2.0 Boston
Quality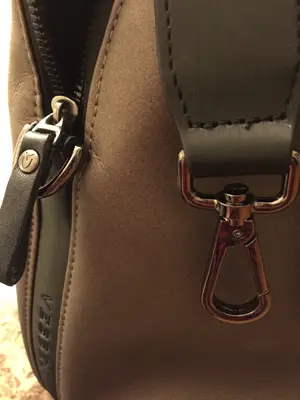 Right away we noticed that both of these bags were exceptional as soon as we opened the box. The materials that Vessel used were very high-quality. We were also pleasantly surprised at how many different types of materials were used just to make one bag, really showing an attention to detail. All of the stitching was flawless – we were really blown away by these two bags.
Inside both bags is a liner that seems to be water-resistant. There are a few sleeves on the inside for additional storage. There is also a zippered section on the inside that has a very soft micro-fiber fabric liner that would be perfect for a cellphone or any other delicate items. The removable shoulder strap is very convenient and sturdy, you don't need to use it if you don't like it, but we are big fans. The pieces that connect the strap to the bag are quite often made of cheap plastic with most bags, but with these bags, those parts are made from metal with a very nice finish. Another thing to note is that the latch that connects the straps with the hooks swivel 360 degrees which was a nice practical touch. Usually those parts are immobile and can make carrying a duffle uncomfortable. These small details not only look really nice, but they will probably add to the lifespan of the bag.
The colors offered are refreshing. For the bags we reviewed, the color options are black, pebble black, or Vessel gold. The black options are both very good choices, but we're partial to the Vessel gold color. Vessel gold looks great in person and gives the bag a unique and luxurious look that we really hadn't seen before. The zippers and handles are really nice, they seem like they'd last a long time.
Unlike cheaper duffles, these two bags really hold their shape well when empty. The materials used are very durable and have a nice weight to them, so you don't have to worry about rips and tears you find with other bags after a lot of use.
Functionality
Like we said earlier, sometimes you just need a solid, go-to, weekend bag. The Vessel Duffle and Vessel Boston Bag are a practical solution for anyone looking for a nice weekend/overnight bag. You can definitely pack a weekend's worth of clothing for one or two people in just one bag. The shoulder strap is a nice touch, and if you don't want to use it, you can just detach it and carry it from the top handle.
The Boston bag is basically the same thing as the duffle bag, with one big difference, a zippable storage compartment base. We suppose there's no right way to use that lower storage section, but some ideas that we had, were that it could store shoes, dirty clothes, or toiletries. The possibilities of the lower storage section is only limited to your own imagination.
Practicality
Everyone should have a good carry on spinner suitcase, but your bag collection should never stop there. You'd be surprised how often you might use a really nice duffle bag instead of your carry on suitcase. We find it easier, sometimes, to just throw your belongings in a lightweight tote with a strap, instead of a heavy suitcase. Plus, there are a lot of situations where the wheels don't really help that much.
Customizable
Another thing we love about the bags are the customizable luggage tags available on select pieces. If you want, you are able to add a custom monogram to the tag. We love the added touch and chose "LL" for The Luggage List! Other bags available on their site have even more room for customization opportunities. Depending on the type of bag, you may be able to customize the color and material of your bag.
Giving Back
Vessel is a purpose-filled luxury lifestyle brand. However, our favorite part of the Vessel brand is that they stand for something bigger than bags. Vessel has a Buy a Bag, Give a Bag policy – which means that every time they sell a bag, they also donate a backpack to children in need. Each bag purchased has a stitched message on the inside telling you that bag's unique number, which is also the total amount of bags that have been donated.
Overall, we were very impressed with both bags. We highly recommend the Vessel Duffle and Boston bags for anyone looking for a modern, luxury tote.