What do you picture in your mind when you hear "laptop bag"? We wouldn't be surprised if you think of the standard black laptop bag that all companies seem to lend each new employee, man or woman, on the first day at the job. You can step outside the one-size-fits-all approach to the laptop bag, and find something out there that fits your multi-faceted personality, combining stylish and professional, fun and functional or practical and sophisticated. Your ideal bag is out there, and it is definitely possible to get it at a reasonable price, which is always a plus.
We separated our list of best computer bags for women by best laptop totes, best laptop cases and best designer laptop bags. A tote will be a nice match for you if you are looking for something that can double as a laptop bag for work and then a cute purse for play. A case is a good fit if you want a bag specifically to carry around your laptop and additional computer accessories. A designer laptop bag offers a bit of both the tote and case with an upscale touch.
Ultimate List of Laptop Bags for Women
Best Laptop Totes for Women
Kailo Chic Women's Pleated Laptop Tote
5 x 16.8 x 14 inches
The Kailo Laptop Tote for Women combines functionality and practicality with stylishness and fun, and it is a great choice for one of the best laptop bags for women if you're looking for a professional bag that can double as a cute purse. The bag styles are attractive. You can choose from a variety of colors and prints including the exclusive Black & White Moroccan print, the Blue Flower pattern, Gray Chevron, Green Circles, Mod Circles (which is a black and white print) and Purple Moroccan. The exterior material looks waterproof plastic, and this finish doesn't attract lint or pet hair.
The padded laptop pocket can hold most PC laptops up to 15.4 inches and 17 inch MacBook Pros, and the handy Velcro strap secures the laptop in the bag.  Its roomy interior can fit as many items as a laptop, two smaller books, a hardcover book, three magazines and a folder. The clear zippered pocket on the inside is perfect for items like flash drives and a stylus for a smart phone, and the convenient key clip is helpful so your keys won't get lost in your bag. You can also unzip the upper and lower zipper of the back pocket and slide the bag over the handles of your luggage while traveling.
Mobile Edge Ultra Work Tote

18 x 5 x 14.5 inches
The Mobile Edge Ultra Work Tote is a great-looking computer bag that is both functional and stylish. It comes with a removable computer sleeve that fits PCs up to 15.4 inches and MacBooks up to 17 inches, and you can remove the sleeve to make more room in the bag and use it as a regular tote or large purse.
The Velcro enclosure helps secure your laptop inside the bag, and it also has a cell phone pocket, zipper pouch, an exterior pocket and three compartments on the inside. The detachable pouch is a nice addition, which is handy to hold smaller items, such as lip gloss or makeup, which can get easily lost in a big bag.
Its classic and distinguished style makes it an attractive bag for any student or professional. The band at the top is made of black full-grain leather and adds a distinguished look to the tote. What's nice about this bag is that the straps are big enough to carry over the shoulder, making it comfortable and easy to carry around. A bonus feature of the Mobile Edge tote is that it comes with a lifetime warranty, a one-year warranty for accessories and a satisfaction guarantee.
Best Laptop Cases for Women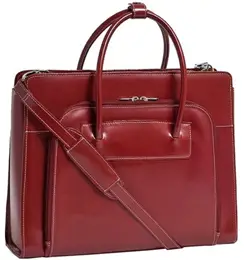 McKlein Women's Laptop Bag
16.5 x 5 x 12.5 inches
McKleinUSA W Series Lake Forest Leather Women's Case has a sophisticated design that is sleek, stylish and versatile. Its clean lines have a nice styling and design that is professional and feminine at the same time. This bag is heavy when empty and is heavier than a less structured and less compartmentalized bag, but is well-made with its solid construction. It is very stiff and will stand on its own, meaning that it won't collapse onto your belongings. Overall, this is a durable and sturdy laptop case that withstands the weather nicely.
This laptop case features a top zipper, which allows easy access to the main compartment. The front organizer zipper section has storage space, and the double compartment is divided by a secured zipper pocket. It has a removable laptop sleeve that is high density and protects laptops up to 15.4 inches. One of its compartments can help you stay organized with pen and card slots and a key clip, and another smaller compartment is large enough for a wallet and checkbook.
A reviewer reported being able to hold a laptop, cords, a few folders, a portable mouse and notepads. Another owner mentioned being able to fit a computer, large day planner, several file folders, two books, a power cord and sunglasses.
Samsonite Camelot Laptop Tote

20 x 5 x 14 inches
The Samsonite Camelot laptop bag seems to be a great match for the woman on-the-go. Its sleek-looking material has a classic look that is feminine and professional, and it pairs well with suits or business casual attire.  This sturdy bag offers a lot of different compartments for storing your belongings, making organizing a more manageable task when you have a lot to carry.
The zip closure on the top secures your contents, and the front outside pocket contains three open pockets that can store other items such as a phone, wallet or sunglasses. The back outside pocket with a zip closure that is roomy for storing larger items and it can also unzip on the bottom so you can slide your bag through the telescopic handles of your luggage while traveling. The roomy interior also has two large open pockets on one side.
Although some may think this bag is too big, others say it is the perfect size to hold and carry lots of belongings when necessary. In addition to a 15.6 inch laptop, one owner reported being able to carry the cords and travel mouse in the padded laptop compartment.
This owner was also able to fit files, an 8×5 inch calendar and notebook, two phones and their charging cords, an umbrella, wallet, eyeglasses, water bottle, hard drive and a small pouch with personal items in other compartments throughout the bag. A few additional helpful features include a metal Samsonite brand tag that swivels open so you can add your contact information, as well as the metal feet at the bottom also protect the bag when it is on the ground.
MyGift Laptop Carrying Case
17 x 2 x 12.5 inches
The MyGift Laptop Case for Women is a fun alternative to your standard computer case. With your choice of a solid red, black or purple bag, the floral print design offers a feminine and soft look.
It is lightweight, has a sturdy construction and offers lots of storage room. The larger areas are convenient for holding a large laptop up to 17 inches weighing up to six pounds, charger, mouse, book or folder and maybe even a keyboard. There is an interior Velcro securing strap inside that holds the laptop securely in the sleeve. More storage options include a front hidden zipper compartment, two large exterior pockets and one with smaller pockets to hold smaller items such as pens, flash drives, business cards and more.
The bag has two handles on top, and it also has an adjustable and detachable shoulder strap that is well-padded to provide you with the comfort and support you need when carrying this bag around. Additionally, the front and back of the bag are padded, and the divider is padded also. The bottom of the bag also has two feet to elevate the bag off the ground and keep it clean. This bag has received many good reviews stating that the bag is a great value for the money.
Best Designer Laptop Bags for Women
Moda Angelo Exquisite Women's Designer Briefcase

13 x 10 x 4 inches
The Moda Angelo Women's Designer Laptop Bag Briefcase ranks pretty high among the designer laptop bags for women who want to leave a fashionable and professional impression at a very reasonable price. It is made of faux leather that actually looks like leather, and it has an elegant finish with its chic design and classic look. The crisp lines and hardware reflect the excellent workmanship, lending to the look and feel of a more expensive product. As one reviewer said, "This bag is great for work but the style transitions easily into other settings so that you do not need to carry an additional purse."
This bag fits small portable laptops or tablets that are 11 inches wide. Some reviewers have reported that the bag can easily hold a 13 inch MacPro without a zipping problem while others have mentioned that it can hold a 13 inch standard laptop but not much else. It is a slender bag meant for a lightweight laptop. The design of the bag consists of one main compartment separated into thirds by a zippered center pocket, but there is no padded pocket for extra protection. The sturdy sides stand up to wear and tear of everyday use and resists scuffing and scratching. There is a dual carrying handle with detachable shoulder strap that is approximately 40 inches long. Other nice features include a top zippered pocket and cell phone pouch.
Solo Vintage Collection Women's Leather Carryall
17 x 12.8 x 4.5 inches
If you are looking for a bag that can serve as a carryall for a 15.6" laptop, notebooks, folders, chargers and more, look no further than the Solo women's leather computer tote. This carryall has an exceptional interior organizer section that separates your items for easy finding. Its padded compartment can protect your laptop and the metal feet protect the bottom of the bag. The handy top zipper enclosure keeps your items in the bag where they belong, and its shoulder straps are soft and filled with rope, offering comfortable and sturdy support.
Made of high-quality and full-grain Colombian leather, this great bag has stylish gold accents and a bright blue interior lining that adds a fun yet distinguished pop of color. An added bonus is its rear sleeve that allows you to place your carryall over the telescoping handles of your favorite piece of luggage, consolidating your bags for a more convenient traveling experience. The professional and sophisticated look, combined with the practical functionality, make this one of the highly recommended best bags for women.
Conclusion
Yes, there are the average, run-of-the-mill laptop bags that saturate the market, but that doesn't mean that you should have one too. Whether you are a student or professional women, you can have a bag that is both fashionable and functional. Our comprehensive list of best laptop bags for women is a great resource and starting point for deciding which laptop tote, case or designer bag that best suits you, your personality and style.