Traveling internationally can be one of the most rewarding experiences of your life. If you are not used to flying outside of the country which you live in, now is a great time to make sure that you are aware of the differences between carry-on luggage restrictions across various international airlines.
Unfortunately, your current carry-on bag that you've taken on many domestic flights may be a tad too big for some international airlines which you've never flown. However there is a common misconception that should be cleared up:
Not all international airlines are stricter than domestic.
Some international airlines actually have larger baggage limits than what you may be used to domestically. The truth is that by flying internationally, you may be opening yourself up to other airlines that you've never flown on, which may have tougher baggage restrictions for size and weight – which is where the misconception stems from.
The best way to be as prepared as possible, is by buying a carry on bag that is no more than 21" tall. Things can get a little tricky when you go with bags that are 22" and larger. Not to say that a 22" bag won't fit on most flights worldwide, but to actually have the best luggage for travel, we like to say:
Keep your carry-on under 22" to be safe.
Some luggage manufactures sell carry-on bags in 2 different sizes: Regular/Continental and International. We've written a review of a luggage model that is available in both options: the Victorinox Avolve 3.0 carry-on. This is a perfect example of a luggage manufacturer understanding the differences between various baggage restrictions, and offering the customer 2 options based on their flying habits.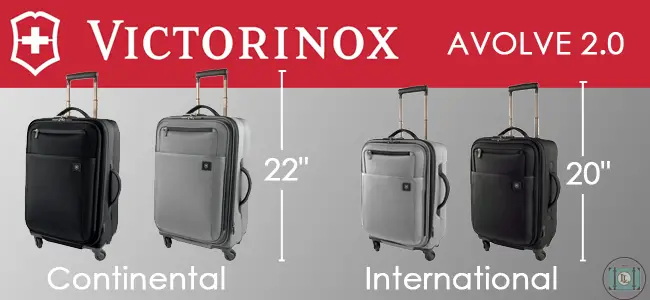 We wouldn't be doing our job if we didn't at least recommend a few of the best options for these types of suitcases. Below are 3 of our top picks for internationally compliant luggage.
Victorinox Avolve 3.0
As you can guess – we love this bag. We wrote a pretty thorough review on it a while back and we still think this is one of the best bags you can buy that will get in the overhead compartment on virtually any passenger plane in the world.
At 20" tall, this is an all-around safe bet for international and domestic flights. It is available in either black or gray, and has a very classic look to it. The material is very high quality and proven to be quite durable according to many frequent flyers who happen to own this bag.
Briggs and Riley Torq
This is arguably or favorite bag in the world – which we've dubbed the best carry on suitcase. We've also written a review on this bag and we still can't get enough of it. The Torq is more expensive than the Victorinox, or most other suitcases for that matter – but you will get an amazing carry-on with a lifetime warranty. We've heard stories from Torq owners who have taken advantage of this lifetime warranty.
After many flights and rigorous use, some did experience something breaking or getting scratched up (things happen). A little reluctant, these owners contacted Briggs and Riley and were gladly able to rectify the situation. Briggs and Riley is an expensive brand, and sing their praises all over this site, even going as far as claiming Briggs and Riley to be one of the best luggage brands.
Samsonite Hyperspace
You guessed it, we've written a review on this bag as well. This one is a bit different though because it comes in a "boarding bag" size which is just 18" tall, yet 16" wide. It is possible to get the bag in a 21" size, which would still qualify for an international size.
We like that this bag looks a little different. It comes in green! (or black) and has white wheels. If you don't want your bag to blend in with all the others all over the world, go with the green version and maybe get a unique luggage tag.
Nobody wants to willingly opt for a the smallest carry on possible. However, we have good news for those international travelers looking for some packing tips. We've written a popular article on How to Fold Clothes to Save Space in Luggage – check it out! We broke down all our favorite tips for optimizing the space inside your carry on – you don't want to miss this post. We've added some informative videos as well to help teach you step by step the best way to pack your international carry on.
International travel is something that every human being should have the joy of experiencing. The last thing that you need to lessen that experience is added stress from finding out that you need to pay extra to check your bag at the gate. This can be an extra $50+ depending on the airline, which is money better spent elsewhere, like on your trip.
To be totally certain that your bag won't end up costing you more in the long run, make sure to get it right the first time and go with a bag mentioned above, or any other highly-reviewed international carry on. Just remember this important rule: the best luggage for international travel is always 21" or smaller, and you may want to go with a 20" just to stay on the safe side. As always, safe travels and take lots of pictures!