With an impeccable safety record, Delta Airlines is one of the most respected airlines in the world. In addition to offering travelers safety, comfort, and affordable pricing, Delta also offers a wide variety of amenities, such as complimentary pillows and blankets, to make your experience more enjoyable.
If you are preparing to travel with Delta, it's important to be aware of their luggage policies so that you can experience a smooth and seamless process. You can save a lot of money just by knowing the airline's carry on size limits.
Standard to most other airlines, Delta permits travelers 1 personal item, such as a purse, laptop bag or item of similar size that will fit underneath the seat in front of you, and 1 carry on. If you plan to bring a larger bag or roll-aboard luggage, it must meet size requirements to fit in the overhead storage. 
Combined length + width + height of baggage must not exceed 45 linear inches (114 cm) 
Individual length, width and height measurements may not exceed 22" x 14" x 9" (56 cm x 35 cm x 23 cm) respectively 
To ensure the safety of all passengers and flight attendants, you will need to ensure that you can safely lift and place your carry-on luggage in the overhead bins without requiring assistance (there are exceptions). 
Here is a breakdown of carry-on size restrictions so that you can be ready to go when it's time. 
Delta Carry On Luggage Size Limits
| | | | | |
| --- | --- | --- | --- | --- |
| | Length | Width | Height | Weight |
| Inches | 22 | 14 | 9 | N/A |
| Centimeters | 56 | 35 | 23 | N/A |
Combined length + width + height of baggage must not exceed 45 linear inches (114 cm) 
These measurements include any handles or wheels

In addition to the personal items listed above, travelers may also carry the following at no charge: 
If you are traveling on one of Delta's Connection flights, including flights with 50 or fewer seats, you are only allowed a personal item as there is limited storage space on the aircraft. These items follow the same requirements as all other flights and must be able to fit underneath the seat in front of you or the overhead bin, space permitting.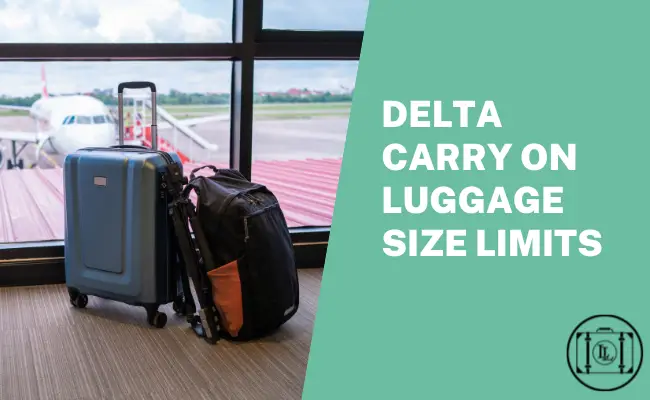 FAQ
What is Allowed in Carry On Luggage? 
For your and others safety, there are some restrictions to carry on items. While most countries have restrictions on containers with liquids, gels, aerosols, it's important to pack ahead of time and place certain items in checked luggage to avoid delay, waste, and/or additional costs. As per the Delta Air website, the following guidelines are provided for travelers: 
Limit liquids, gels, aerosols and pastes items to a maximum of 3.4 ounces or 100 milliliters 
Place all items in one single quart-size, zip-top bag of clear plastic
At security, remove your quart-size bag and place it in a bin
Are carry-on items included in Delta's Baggage Liability?
Unless a baggage or item is checked in or given directly to personnel for storage purposes, Delta Air does not assume any responsibility for these items. 
What if my Item Does Not Meet the Size Requirements? 
There are several items that may not meet the size requirements and will require special assistance. Items such as sports equipment, oversized baggage, medical devices, etc., are considered special items and count as one bag. Be sure to talk to a gate agent once you arrive to get further assistance with these items and to learn if there will be extra costs. 
Delta Airlines is one of the highest rated airlines and they are committed to providing fliers with a safe and comfortable experience. Whether you are traveling domestically or internationally, you can expect to have a smooth flight from start to finish. By planning and preparing ahead, you will be ready to board your flight without additional stress or worry. If you have any questions about luggage or you need extra assistance with anything else, Delta agents are available to assist you according to service need.