When it comes to choosing an airline, there are a lot of factors to consider. Safety, comfort, and price are all important things to keep in mind. Allegiant Air offers travelers all of these things as well as great customer service. Best known for their low fares and focus on the customer experience, Allegiant AIr is a top choice for many people. If you are planning to travel soon, you'll want to know all about their luggage carry on size requirements.
Allegiant Air allows passengers to bring one personal item at no charge. Items that fit in this category are laptops, purses, briefcases, or small backpacks, which all must be small enough to fit completely underneath the seat in front of you. If you would like to bring a carry on and/or checked luggage, fees will apply. In order to save money, it is recommended that you reserve your items in advance. 
In order to be sure that you are staying within all the luggage size requirements, please refer to the following chart:
Allegiant Air Personal Items Size and Weight Limits
| | | | | |
| --- | --- | --- | --- | --- |
| | Length | Height | Width | Weight |
| in. | 7 | 15 | 16 | N/A |
| cm. | 17.8 | 38.1 | 40.6 | N/A |
In addition to the free, personal items permitted,  travelers are also allowed to carry the following at no additional charge: 
Food items for immediate consumption
A coat or jacket
An umbrella
One item of reading material
A diaper bag
Allegiant Air Carry-On Baggage Size Limits
| | | | | |
| --- | --- | --- | --- | --- |
| | Length | Height | Width | Weight |
| in. | 9 | 14 | 22 | N/A |
| cm. | 22.9 | 35.6 | 55.9 | N/A |
As there is no weight limit for carry-on baggage, you'll want to ensure that you can personally lift it above your head to safely place it in the overhead storage cabin.
Total measurement includes handle and wheels, so be sure to factor in those dimensions to stay within requirements. 
Allegiant Air Checked in Baggage Size Limits
| | | |
| --- | --- | --- |
| | Total Measurement | Weight |
| in. | 80 | 40 lbs. |
| cm. | 203 | 18kg |
Add length + height + width to get the total measurement. 
Additional charges will apply for bags weighing more than 40 pounds
A total of 4 bags may be pre-checked per passenger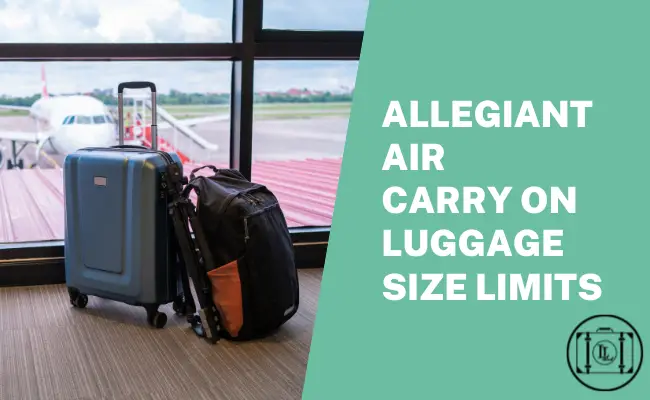 FAQ
What are the Requirements for Traveling with Smart Luggage?
If you are carrying smart luggage as carry on, you will need to ensure that it meets the standard carry on measurement requirements. Please note that the lithium battery may not exceed 100 watt hours. Also, be sure that all transmitting capabilities are turned off during flight. If you plan to check in your smart luggage, you must remove the lithium battery and carry it with you in the cabin storage of the aircraft. 
Is There an Advantage to Paying for my Bags in Advance?
You will definitely want to pay for your bags in advance! You can prepay for both carry-on and checked luggage when you purchase your airline tickets. Other benefits to pre-paid services include adding bags, reserving seats, and upgrading to priority access. You will only be able to arrange for these savings and services if you do so before you check in or print your boarding pass. 
Is there a charge to bring a stroller or wheelchair?
All medical and assisted devices, including wheelchairs, canes, walkers, and strollers are free of charge. They will be checked in and delivered to the gate upon arrival. 
If you're looking for an affordable and convenient way to travel, Allegiant Air is a great choice. Offering flights to nearly 100 destinations and growing, this low-fare airline makes flying an easy and accessible option for many. In addition, Allegiant offers a number of features and amenities that make travel easy and enjoyable, including online check-in, complimentary beverages on select flights, and affordable bundle upgrades. Whether you're planning a quick getaway or a long-awaited vacation, Allegiant Air has everything you need for a stress-free trip.