If you're looking for a great airline to travel with, Alaska Airlines should be at the top of your list. Their friendly and professional staff make your trip easy and enjoyable from start to finish. Plus, their wide range of in-flight amenities keep you comfortable throughout your journey.
Whether you're traveling for business or pleasure, Alaska Airlines is a great choice. Before your trip, you'll want to be aware of baggage requirements in order to ensure a smooth and seamless experience. 
Alaska Airlines has a few different restrictions when it comes to carry-on baggage. Each passenger is allowed one personal item, such as a laptop, briefcase, or purse, and one carry-on bag. The personal item must be small enough to fit under the seat in front of you, and the carry-on bag must be able to fit in the overhead bin.
The measurements of the carry on have recently changed to 22"x 14"x 9", including wheels and handles. For information on traveling with electronic or battery operated devices,  you can visit Alaska's information page here. 
 It is a good idea to double check your baggage measurements after you have packed to ensure that it fits the required dimensions. The total measurements ( length + height + width) may not exceed 45 inches. 
Alaska Airlines Carry On Luggage Requirements
| | | | | |
| --- | --- | --- | --- | --- |
| | Height | Length | Width | Weight |
| Inches | 22" | 14" | 9" | N/A* |
| Centimeters | 8.66cm | 5.5cm | 3.54cm | N/A* |
*There are no weight restrictions for carry-on, however you will need to be able to lift it above your head to store in the cabin. If you are unable to do this, you may wish to consider checking in your luggage.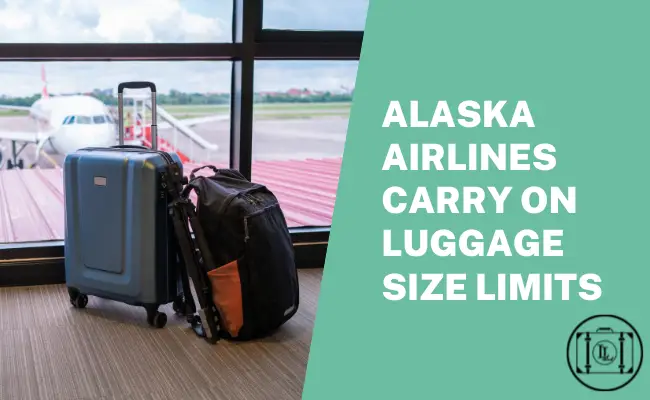 FAQ
What items will not count toward my carry-on?
There are several items that you may bring on board without it counting toward your carry-on. According to the Alaska Airlines official website, you may bring the following items: 
Coats, hats, umbrellas (compact size that easily fits into an overhead bin, under the seat or in a suitcase)
A pillow for personal use
Food for immediate consumption
Reasonable amount of reading material
FAA approved child/infant restraint seats to be occupied by a child, strollers (based on space availability; space guaranteed only with the purchase of a ticket for the infant).
Service Animals that are properly documented.
Mobility/Medical assistive devices such as wheelchairs, canes, crutches, continuous positive airway pressure (CPAP) machines, approved portable oxygen concentrators (POC), breast pump, etc.
Prescription medications and any medical devices needed to administer them (for example: syringes, auto- injections) as long as they comply with applicable safety, security, and hazardous materials rules.
What are the rules for checked luggage? 
In the event that you need to check in your luggage, you will need to be aware of the following: 
First bag is $30, Second bag is $40, and Third + is $100 per bag
Weight of bag may not exceed 50 pounds and must measure 62 inches (linear)
Bags that exceed weight and/or size limits will be charged $100 
Alaska Airlines offers travelers a unique 20 minute baggage guarantee. In the event that your luggage is not at the baggage claim within 20 minutes of landing, Alaska Airlines will credit you $25 or bonus miles for a future travel date. 
If you're looking for a stress-free travel experience, Alaska Airlines is a great choice. Their baggage requirements are simple and straightforward, so you won't have to worry about over packing or paying extra fees if you plan ahead. Should your travel plans suddenly change, Alaska Airlines is typically very flexible when it comes to making changes or cancellations.
Whether you're looking for an affordable airline with simple luggage requirements or one that's flexible when it comes to changes, Alaska Airlines is definitely worth considering as your choice for travel.