Air Asia is a wonderful airline to choose for your travel. They offer friendly, professional service and their rates are often very competitive. Another bonus is the variety of destinations to choose from. If you're looking for an affordable and enjoyable travel experience, Air Asia should be at the top of your list. In order to help you enjoy the best experience, we have broken down some of the checked and carry on baggage requirements below.
Depending on your purchased or complimentary checked baggage allowances, Air Asia permits travelers to bring as many bags as required. If your fare includes the Value Pack or Premium Flex, checked baggage is included up to 20 kg. If you are flying with the Premium Flatbed fare, luggage may weigh up to 40 kg. One nice feature is that you may select different weights for departure and return flights if needed. 
Air Asia Baggage Allowance
If you are purchasing more than 30 kg of baggage allowance, each bag must meet the following requirements: 
| | | | | |
| --- | --- | --- | --- | --- |
| | Length | Height | Width | Weight |
| Inches | 47 | 47 | 32 | 70 lbs |
| Centimeters | 119 | 119 | 81 | 32 kg |
If you need to purchase or upgrade your checked baggage allowance, you can do so in two ways: online or at the airport. Pre-booking your baggage online is preferred and is cheaper than doing it at the airport. It is important to note that all baggage checked in at the airport will also have a stricter weight limit of 15 kg. Should your baggage weigh more than the permitted limit, you will be subject to excess baggage fees. 
Fees vary depending on the destination and are available to download online. It is a good idea to visit Air Asia's website before your trip for more detailed information on the  specifications according to your destination. 
The requirements are slightly different for travel to/from the United States. In this case, you are permitted to purchase a total of two pieces, each weighing a maximum of 20 kg., no exceptions.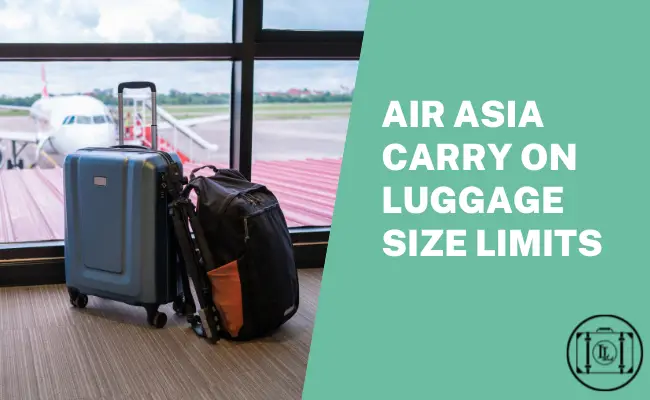 FAQ
What Items can be Checked in for Free on Air Asia?
There are several items that can be checked in at no additional cost. These items include baby strollers, buggies, prams, wheelchairs and mobility devices**, and crutches or walking frames. As long as each of these items are being used by an infant, toddler, child, elderly, or disabled person who is traveling, they are free of charge. 
** Motorized wheelchairs are permitted, however these will need to be checked in. You must complete a special form 48 hours prior to travel to ensure the airline can accommodate your device.
Is Smart Baggage Allowed as Checked Baggage on Air Asia?
There are a few conditions that the smart baggage must meet, however they are permitted as checked baggage. As per the AirAsia website,  If the batteries are non removable, they cannot exceed 0.3g for lithium metal and 2.7Wh (Watt-hour) for lithium ion. Anything exceeding these limits are forbidden and will not be permitted for carry on or check in. All WiFi, bluetooth, and GPS settings must be switched off during travel and travelers are limited to 2 spare batteries in the cabin. 
Who Qualifies for Complimentary Baggage Allowances on Air Asia? 
If you are traveling to Dhaka or domestically within Indonesia, you will receive complimentary baggage allowance. Also, guests who are flying with Air Asia India will receive one complimentary baggage allowance up to 15 kg. Any baggage exceeding this limit will incur additional charges. 
While you may need to spend a little time making sure you understand all the baggage requirements before you travel, you will be glad you chose to fly with Air Asia. Not only does Air Asia offer amazing prices on airfare, making it a great option for budget-minded travelers, they also have an excellent safety record and are one of the leading airlines in Asia. You will enjoy a comfortable flying experience, with ample legroom and a wide variety of in-flight entertainment options. Whether you're looking for a cheap way to travel or simply want to fly with an airline that offers a great flying experience, Air Asia is a great option.