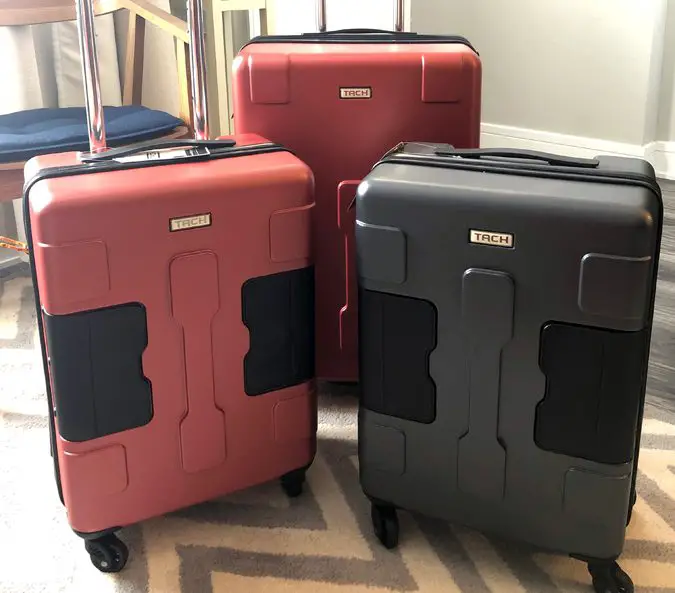 We at The Luggage List have reviewed a lot of luggage, so we've come to appreciate the innovations we've seen in the luggage category over the years. TACH is a brand that truly stands out in terms of innovation, and it sets itself apart by helping travelers easily attach multiple pieces of luggage together and maneuver with efficiency and minimal effort. What a great idea!
Why TACH?
As parents-to-be, my husband and I were thinking about planning a babymoon so we can have a short vacation before the baby is born. The more I thought about it, I realized I'd have to lug a bag around the airport and in a new city while five or six months pregnant or ask my husband to take on two bags for our trip. Either outcome was enough to give me a headache or second thoughts, but we wouldn't want an inconvenience to keep us from taking a vacation.
Once we learned about the TACH Attachable Luggage System, we knew right away that their innovative idea could help individuals and families alleviate a lot of the stress that comes with traveling. After trying the system for ourselves, we were excited to see firsthand that my husband could handle all of our luggage pieces as one solid unit. We were also impressed by all the other features that travelers will surely find helpful.
In this TACH Luggage review, we'll get into more detail about this unique and practical luggage system and how the brand's connectable, lightweight and high-quality pieces make TACH a great option for all types of travelers.
Attachable Luggage System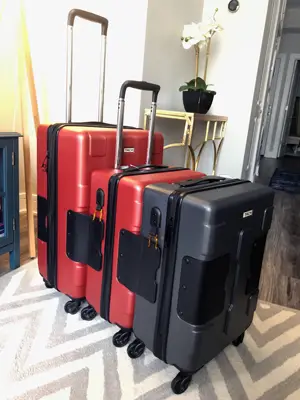 We'll get into the specific product details in a bit because, first and foremost, we want to highlight what makes TACH stand out among all other brands: its innovative and patented Attachable Luggage System.
Each high-quality luggage piece has two front panels that open to reveal strong Velcro on the inside, and each piece also has two exposed Velcro panels on the sides to connect the luggage pieces together. The front and side panels are a functional part of the attachable luggage system, and they are also thoughtfully and seamlessly part of the design aesthetic.
Once your bags are attached with the Velcro panels, you can use the smooth-gliding telescopic handle of just one piece of luggage for efficient portability. If you have three or more pieces of luggage, you can use the strategically placed D-ring with the adjustable pulling strap to distribute the weight evenly.
According to the TACH website, rolling friction is about 5% of the actual weight of the luggage when using the pulling strap on a standard airport surface. This means that if you are pulling 100 pounds, you only need five pounds of pulling pressure to get the luggage rolling and much less to keep it rolling. This is great news for my husband when we're on our babymoon!
TACH Products
TACH offers two luggage lines: TACH LITE and TACH TUFF. The TACH LITE line features lightweight soft-case luggage pieces and the TACH TUFF line features stylish and durable hard-case luggage pieces. You can purchase these pieces individually in the 22" carry-on size or as a three-piece set which has the 22" carry-on, 27" medium size and 31" large size.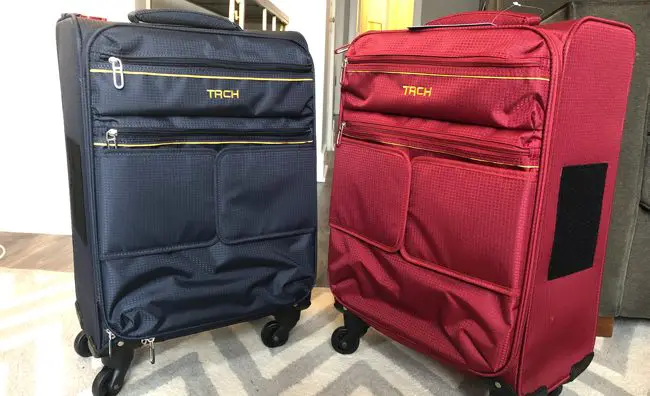 TACH LITE comes in blue or red if purchased individually. If purchased as a three-piece set, all pieces come in blue, red or black, all with yellow trim. The standout qualities of the TACH LITE line are the lightweight pieces and the multiple functional pockets both inside and outside of the bag. These design features can be helpful to travelers who value practicality and convenience.
The pieces in the TACH TUFF line, whether purchased as an individual carry-on piece or as a three-piece set, comes in an array of eye-catching colors: wine red, purple, black, grey and light blue with black accents. These colors on the hard-case material appear to have a soft, metallic look, which can appeal to travelers who want attractive and modern luggage pieces. Another standout detail that you'll find with the TACH TUFF line is the built-in TSA locks.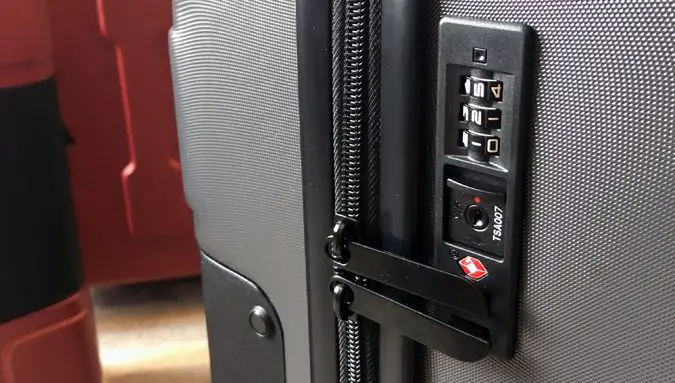 Product Features
The TACH LITE and TACH TUFF luggage pieces share these additional features that would be helpful to all travelers.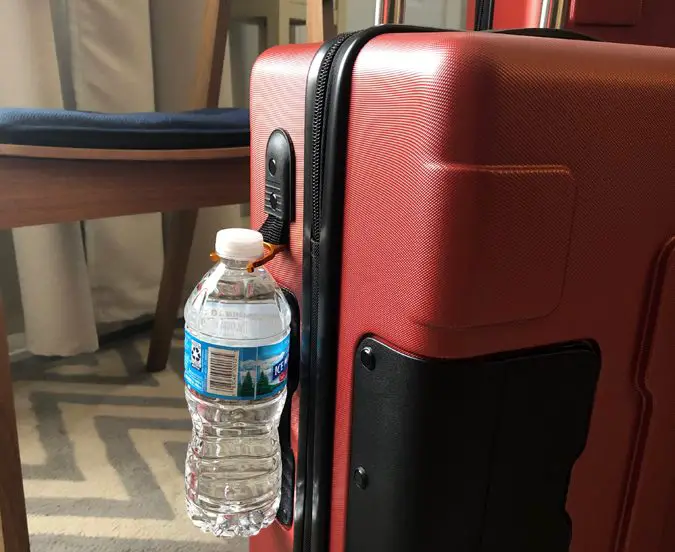 Water bottle holder: This simple and nicely designed holder is made of aluminum. It lays neatly at the side of the bag for easy access so you can slide the top of the bottle beneath the cap into the holder.
Telescopic handles: The two-stage telescopic handles with a comfort grip give you more control over your luggage.
Smooth zippers: The large teeth in the zipper allow for easy opening and closing of all compartments.
Spinner wheels: These ball-bearing wheels allow for added mobility, which is especially helpful when pulling multiple bags at once.
Lower lift handle: These extra handles are extra handy when you need to lift or carry your bag.
Conclusion
The luggage from either the TACH TUFF or TACH LITE lines have a lot to offer and can serve well as standalone pieces, but the best way to appreciate TACH Luggage is to have multiple pieces to connect and move around with ease.
You can quickly and easily connect and disconnect up to nine bags in seconds. You can effortlessly glide all of your luggage in perfect balance. You can have peace of mind that your bags are safely and securely attached as one unit.
No need to rent a trolley. No need to keep an eye out on multiple bags while your fellow travelers grab a snack or take a restroom break. No need to worry now that we have access to more efficient and convenient travel thanks to TACH's innovative contribution to the luggage industry.