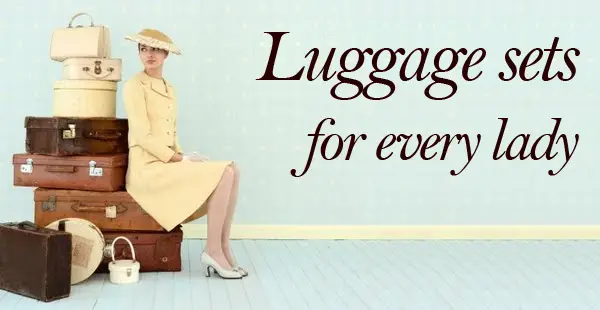 Disclaimer: We understand classifying a certain suitcase as being for women can ruffle a lot of feathers. This article isn't meant to generalize the preference of an entire gender. This article is for people out there who are looking for a specific type of bag marketed to women. Yes most women are fine with the standard luggage look and that luggage at its core is not gender bound. So if you're OK with all of that, and you're looking for a specific type of luggage that may be found in the Women category of a shopping site or store, than this article may be for you.
Whether you are a business woman who is a frequent traveler or you just want a nice and relaxing vacation, a luggage set is a must have. Luggage sets are not light purchases – they can be expensive, and ultimately, they should be something that lasts for quite some time. That said, there are some important factors that need to be considered before purchasing. First, with it being such a large purchase, durability is vital in choosing the right set.
Different sets come with different pieces and quantities, so you should examine your needs to see how much luggage you need in a set. Along with the variety of pieces available, it is important to research how much you can fit in each piece of luggage. Finally, considering you will be using this set for a long time, appearance must not be overlooked as you will have to pick something that is attractive and you will not tire of.
Durability
Probably the most important factor in choosing a piece of luggage, let alone a set, is durability. After all, what good is luggage if it is falling apart? The level of durability in these sets vary greatly and are almost entirely based on material. Some are made of polyester and cotton, while others are polycarbonate plastic. Between zippers, handles or even wheels on these pieces of luggage, the smallest defect can harm the quality of your set instantly.
Space
The amount of bags included in a set varies significantly. Some sets only have three bags, each increasing in size, while some have four or even five bags including a carry on. Knowing how long your travels will be and the amount of space that will be needed is key in deciding the right set for you. Another important piece of research to be done before purchasing is to figure out what pieces of luggage are safe to be qualified as carry-ons and which ones are not.
Style
For the most part, it is the style that separates a woman's luggage set from the rest of the pack. Instead of most being basic black, brown or plain colors, many luggage sets geared towards women will have bright colors, intricate designs, etc. Moreover, women have plenty of choices in what to choose from on places like Amazon. Some sets have over 10 different design selections, while others will have just a few.
Rockland 3 Piece Unique Womens' Luggage Set
Rockland's Vision Polycarbonate set is likely the most unique luggage set you are going to find. For one, unlike the rest of the items on this list, it is made completely of hard, polycarbonate plastic instead of the typical polyester. Secondly, the appearance of this set will certainly distinguish your luggage from the rest.
Four of the six designs are intricate with a plethora of heart and flowery designs, which will certainly set itself apart, if not for the bright pink and purple colors that are also featured. As for the interior, each piece of luggage is well lined with a variety of pockets to put toiletries and other such items inside.
This set does not have the quantity of cases the other sets do. It only comes with a 28″, 24″ and 20″ rolling case. Considering that, it does not have the depth of space the other sets provide. With the body being made of polycarbonate, the case, according to customer reviews, is nearly indestructible.
The only problem with this set is that there have been reported cases that after a while the luggage handle gets stuck and is unable to descend downward. Another problem, though less common, is that the wheels have fallen off after extended use. While many like the overall design and appearance of the luggage, be weary of the lack of durability this set has in terms of its handles and wheels.
American Flyer Luggage Budapest 5 Piece Spinner Set
This is the first of two sets by American Flyer, which both come as a 5 piece set including a 28″, 26″ and 20″ case, while having a 19x10x12 inch duffle and a personal carry-on with dimensions of 18x9x11 inches.
With that, the key feature that customers like is the great depth of space they have in their luggage. Not only are there five pieces of luggage, but each upright expands up to two additional inches to include more of your items.
There are only two style options for this set, which both carry a classic flowery design. The first is a brown and navy blue color and the other is brown and red, which both have a beautiful, professional look that will work well for the fashion-conscious business woman. This set has mixed reviews in terms of its durability, though.
While some owners have labeled it as a "survivor", stating that it has lasted several years, others have said the fabric quality leaves a lot to be desired. The only other drawback is that many reviewers have stated that it comes with a strong chemical smell; however, if aired out properly, it should not be a problem. If you need a professional luggage set with significant space options, American Flyer Budapest should suit your needs quite nicely.
American Flyer Luggage Silver Clover 5 Piece Set Spinner for Women
The second set from American Flyer is not much different than the Budapest group. What does seem to be the case though is that this set has had no complaints about the durability, so it could be said that this is much sturdier.
Like the other American flyer set it, has three upright cases, a duffle and a personal carry on, making it a major bang for your buck.
Appearance-wise, the silver clover set features a combination of two colors. The first is a grey and black color combination and the other option is pastel pink and black, both with a stylish design pattern. Much like the other American Flyer set mentioned above, this set is heavily geared towards the professional female traveler.
If you want a professional and stylish luggage set for a woman that allows for significant packing space, you really cannot go wrong with the American Flyer Silver Clover edition.
Rockland Luggage Four-Piece Cute Luggage Set
This is the second Rockland set featured in this list, but unlike the American Flyer collections, the two Rockland sets that we love are entirely different. The first difference is that this set is not made of polycarbonate; instead, it is made of 100% polyester. It also comes with four pieces of luggage instead of three.
The set features a 28″, 24″ and 19″ upright in addition to a 12″ tote that is perfect for a larger purse-like item for an airline personal item. While the size of the bags are smaller at first sight, all of the bags are expandable, allowing for additional packing room.
What customers love most about this bag is the wide range of style options. This set typically comes in 16 different colors/designs, ranging from the unique pink zebra print luggage set to a black and white striped set. Regardless of your personal style preference, you are bound to find a look that fits your personality. One problem with this set is that it has multiple complaints about durability.
Some have even stated that the case broke midway through its first trip, whether it is the foot of the case, crooked stitching, plastic interior lining and broken zippers. Overall this is a well-liked set which Amazon reviewers have given an average of 4 out of 5 stars from over 350 reviews. So chances are you'll have a similar experience as those who provided a favorable review.
Luggage Sets Based on Your Style and Needs
Whether you need a huge set of luggage with a variety of packing options, a set that will last many years down the road or just a set that looks cute, there is a set for you on this list, all coming highly reviewed. A luggage set is not a measly investment, and proper research should be done before purchasing. Tons of online retailers are selling luggage sets to women that are of low quality so be careful and check reviews.
We don't want you to be stuck with a set that will fall apart, so we invite you to check out reviews and decide for yourself. The five sets which we've identified above are proven winners and will make great gifts for you or the traveling woman in your life. Life's too short to travel with ugly bags, so do your homework and research according to the most important style and functionality factors to you.