What is the size and weight for carry on luggage for American Airlines? One of our favorite airlines to fly on is American Airlines, whether it's domestic or international.
Like any other airline, American Airlines has strict carry on luggage size limits that customers should all know before packing up and heading to the airport. Below we will dive into specifics for size, weight and more for flying with American Airlines.
If you fly American Airlines, you are permitted one carry on suitcase and one personal item. Is American Airlines strict about carry on sizes? Read more below to find out.
American Airlines Size Limits for 2023
American Airlines requires that your carry on suitcase be no larger than 22″ L x 14″ W x 9″ H
How big is a carry-on bag for American? Below is a chart that breaks those dimensions down and offers it in centimeters.
Carry on Luggage Size Limits
| | Max Height | Max Width | Max Depth | Max Weight |
| --- | --- | --- | --- | --- |
| Inches | 22″ | 14″ | 9″ | n/a |
| Centimeters | 56cm | 36cm | 23cm | n/a |
Personal Item Size Limits
| | Max Height | Max Width | Max Depth | Max Weight |
| --- | --- | --- | --- | --- |
| Inches | 18″ | 14″ | 8″ | n/a |
| Centimeters | 45cm | 35cm | 20cm | n/a |
Per the AA site, 1 diaper bag per child is permitted as well as soft-sided cooler bags with breast milk, child safety seats, strollers and medical or mobility devices don't count as your personal item or carry-on. An example of a medical device could be a CPAP machine or something else you need for medical reasons.
American Airlines Carry on Weight Limits
As of right now, American Airlines does not show a weight limit for carry ons on their website. Ideally you should be able to lift the bag up to place it in the overhead bin. Carry ons aren't very big so most airlines don't really care about weight, it's more about the size of the luggage.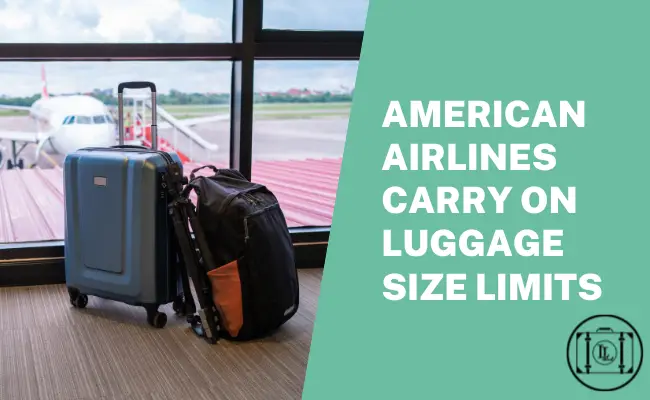 FAQ
Is American Airlines strict about carry-on size?
American Airlines can sometimes be very strict about carry on sizes. We have spoken to travelers who have no issue and flight attendants don't even bat an eye when it comes to carry ons. On the other hand, perhaps depending on the size of the plane or a plane that is fully booked, they have been known to require travelers carry ons to fit in the measuring bin. If your carry on is too large you will have to check it, likely for free.
As long as your carry on measures at or below the requirements in the table above, you have nothing to worry about.
Does American Airlines have a weight limit on carry ons?
Currently, American Airlines does not have a limit on carry on weight. They do have weight limits for checked bags and even charge an overweight fee on checked suitcases.
Does American Airlines have free carry-ons?
American Airlines allows 1 free carry on suitcase if you are flying basic economy or higher. If your carry on luggage is too big or they run out of room, they will check your carry on at the gate for free and you can find it at the baggage claim of your destination.
Can I bring a backpack and a carry-on American Airlines?
Yes you can bring a backpack as a personal item in addition to your carry on with American Airlines. Please reference the chart above to ensure your backpack and carry on fall within the size requirements for AA.
We love flying with American Airlines and we want everyone to have a great experience. Remember to measure your carry on suitcase before heading to the airport to ensure that it's not too large. American Airlines can be strict with their carry on size limits, so get some peace of mind by measuring before flying.